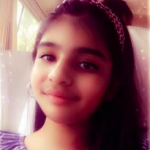 Anaisa Arora, is a student at Modern School Vasant Vihar. She is an egalitarian and a passionate conversationalist, writer and debater.
She has debated nationally as well as internationally and won many awards. She only recently participated in one of her first and toughest MUNs and nevertheless won an achievement there as well.
She has a blog on The Times of India which helps her in conveying her opinions on multiple and varied topics. One of her goals is for the GEN-Z to be more aware of the happenings of the world. She is inquisitive of everything and has an opinion on everything as well.
She is a voracious reader and loves the genre of Greek, Roman and Egyptian  mythology. Michelle Obama and Ruth Bader Ginsburg are two of her greatest influences. She advocates for intersectional justice and human rights. She  acknowledges that the future may never be perfect, utopian or flawless regardless she strives to make it so.