Taylor Swift Creates History to Become The First Artist to Claim the Entire Top 10 On Billboard Hot 100
Written by Prarthana Sheopuri. Managing Editor, I Kid You Not.
Here's all about why Taylor Swift is GOAT!
---
Written by Prarthana Sheopuri. Managing Editor, I Kid You Not.

She's G.O.A.T.
Taylor Swift created history as the first artist to claim the entire Top 10 on Billboard Hot 100.
Here's a list of the amazing feat achieved by the American pop and country music singer-songwriter:
Swift went past the Canadian rapper, Drake, who had nine of the Hot 100's top 10 for a week in September 2021.
She has overtaken Madonna as well with the fastest succession of albums in the UK.
Swift now shares the spot with Barbra Streisand with the most number-one albums on Billboard.
The number one spot on the chart belongs to the song 'Anti-Hero', marking Taylor Swift's ninth career leader.
The album has 13 tracks and 7 bonuses. All the 10 songs in the Hot 100's top tier are from 'LP Midnights', which was released on October 21 at No. 1 on the Billboard 200 albums chart.
In one week, Taylor edged past Drake and The Beatles for the most titles at the top of the Hot 100. The Beatles had 8 and Drake 9, the 'Love Story' singer has gone past them with a perfect 10. Her album, Midnights, has become the fastest-selling release of 2022.
A swift take on Swift's life
Taylor Swift showed an interest in music at an early age, she was merely 11 when she sang " The Star-Spangled Banner before a Philadelphia 76ers basketball game, and the following year she picked up the guitar and began to write songs.
She is inspired by country music artists such as Shania Twain and Dixie Chicks and has crafted original material that reflected her experiences of tween alienation. In 2004, at age 14, she signed up with Sony/ATV as a songwriter.
Her first single, "Tim McGraw" was released in the summer of 2006 and was an immediate success. She hasn't looked back since then and has grown from strength to strength.
We bow to her 🙂

Headline Image Source: https://www.flickr.com/photos/evarinaldiphotography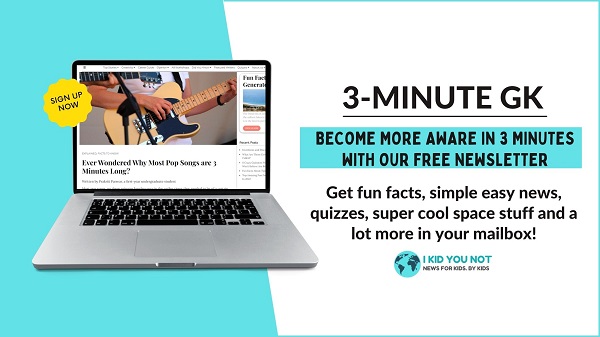 Better Your Child's G.K. In 3 Minutes – Get This Free Newsletter
Get fun facts, simple and easy news, quizzes, and lots of other interesting things to read in your mailbox – for free! It's what we call GK-on-the-go!
I Kid You Not now has a large readership across India and also parts of the world. If you want to write for us, you can submit your story here. You can also apply to become a news anchor. Apply here