What is Thanksgiving? Quick Facts
Written by Prarthana Sheopuri. Managing Editor, I Kid You Not.
Europeans came to America in search of a "New World" in 1620 and came in contact with Native Americans who had been living there for 12,000 years
---
Written by Prarthana Sheopuri. Managing Editor, I Kid You Not.

Simply put – In the United States and Canada, Thanksgiving is an annual national holiday that celebrates the blessings of the past year.

But, here's what you need to know – while this is celebrated as a day that commemorates the so-called coming together of the early settlers to the US (the English) and the Native Americans (who came together to have a historic harvest feast), it's origins are not as happy.
Uncomplicated this…
Europeans came to America in search of a "New World" in 1620 and came in contact with Native Americans who had been living there for 12,000 years. A little after the English arrived the chief of the Native Americans made a deal with them that they would both help, and not harm each other.

They hunted and feasted together to celebrate an English harvest festival. But, trouble soon began in this alliance, which lasted for 50 years. As more English people arrived, they took more of their land. Disease started to spread, tensions built up and led to a war in which the Native Americans were destroyed.
Known as King Philip's War the conflict devastated and killed many Native Americans.
The balance of power shifted in favour of Europeans forever.
Key Facts to know
'Thanksgiving' officially marks the start of the Holiday season in the US and Canada.
Along with the US, Germany, Brazil, Canada, and Japan celebrate the holiday as well.
It falls on the second Monday of October in Canada while it is a national holiday on the fourth Thursday of November in the United States.
Thanksgiving in the US commemorates the 1621 harvest feast shared by the British settlers, later known as the pilgrims, and the Native American (Wampanoag) people. The festival was observed to celebrate the survival of both communities.
Modern-Day Thanksgiving
Thanksgiving officially became a holiday in 1863, after the then-President of the U.S., Abraham Lincoln said that Americans should recognize the last Thursday of November as "a day of Thanksgiving".
Modern-day Thanksgiving is celebrated to say thanks and recognise the sacrifices and blessings of the year that has just passed. It has become a day for people to get together with their family and friends. They decorate their homes to get right into the festive spirit.
A traditional Thanksgiving meal typically includes turkey, cranberries, bread stuffing, potatoes, and pumpkin pie.
Most families especially with members who live away, make it a point to get together and celebrate all the blessings of the past years and eat a grand meal together on Thanksgiving day.
Thanksgiving is followed by ' Black Friday' – a day of major sales across various stores encouraging people to shop and gift to their heart's content. With Christmas around the corner, there is a major footfall in malls and markets.
Thanksgiving may seem profoundly American, all because of popular culture. However, surprisingly the US is just one of several countries that celebrate the festival
Thanksgiving around the world
Canada: Canadian Thanksgiving is celebrated on the second Monday in October, whereas the United States celebrates it on the fourth Thursday in November.
The United States: While the US celebrates the 'feast' shared by Pilgrims and Wampanoags in 1621, Canadian Thanksgiving goes back to 1578, when British explorer Arthur Frobisher and his crew returned from their search of the Northwest Passage. Some other sources trace the Canadian Thanksgiving to the 17th century when French settlers came to North America and held feasts to celebrate their successful harvests.
Germany: In German-speaking countries, the event is called Erntedankfest.In rural Germany, Switzerland, and Austria Erntedankfest is more public than a private celebration with musical performances, dancing, fireworks, and not to forget -food. Churches are decorated with autumn crops and during the day, people participate in religious processions or parades.
Japan: In Japan,' Thanksgiving ' is celebrated as the ancient Shinto rice harvest ceremony and it is held on the 23rd of November. Known today as 'Labour Thanksgiving Day, the celebration is regarded as an occasion for commemorating labour and reflecting on issues that impact the community, especially the environment and human rights.
The United Kingdom: Similar to the Erntedankfest celebration in German-speaking countries, Thanksgiving in the UK is actually a Harvest festival held in late September or early October.
During pre-Christian times in Britain, people would offer the first sheaf of cereals to fertility gods then come together and celebrate the harvest with a supper(dinner/evening snack). Even after Christianity arrived in Britain the Harvest Festival was celebrated and many traditions remained.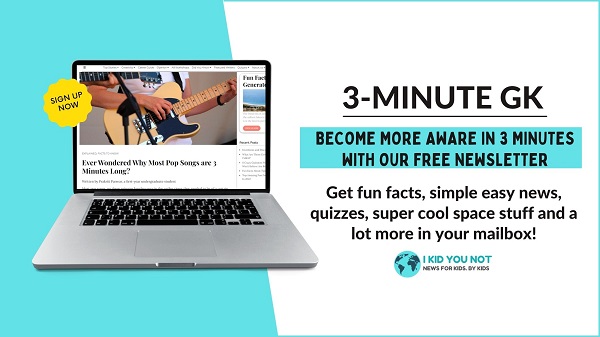 Better Your Child's G.K. In 3 Minutes – Get This Free Newsletter
Get fun facts, simple and easy news, quizzes, and lots of other interesting things to read in your mailbox – for free! It's what we call GK-on-the-go!
I Kid You Not now has a large readership across India and also parts of the world. If you want to write for us, you can submit your story here. You can also apply to become a news anchor. Apply here