Why Was Shinzo Abe Killed?
Shinzo Abe the longest-serving Prime Minister of Japan – from 2006 to 2007 and then again from 2012 to 2020.
---
Who was Shinzo Abe?
Shinzo Abe the longest-serving Prime Minister of Japan – from 2006 to 2007 and then again from 2012 to 2020.
Moreover, he was also the chief cabinet secretary from 2005-2006 and was the leader of the opposition for a short span of 2012 also.
He was born in a political family on September 21, 1954, and was assassinated on 8 July 2022.
Why was he in the news?
On the 8th of July 2022, Shinzo Abe shot by a young man while he was delivering a speech an an election event in a Japanese city called Nara. He died og the injuries.
Who killed Shinzo Abe?
The suspect, a 41-year old man named Tetsuya Yamagami, admitted to shooting Shinzo Abe while he was giving the speech.
He said that he held a grudge against Abe who, he thought, had links with a religious ground that had cheated his mother. The shooter also told the police that he wanted to attack the leader of the religious group initially and not Abe.
A hand-made gun was recovered in the area of the incident.
India's friend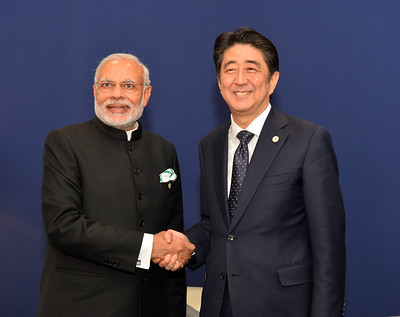 Shinzo Abe had a special relationship with India. Prime Minister Narendra Modi said:
"Shinzo Abe — an outstanding leader of Japan, a towering global statesman, and a great champion of India-Japan friendship – is not among us anymore. Japan and the world have lost a great visionary. And, I have lost a dear friend."
Quick facts about Shinzo Abe's key role in Japanese politics
He became Japan's 90th Prime Minister at 52.
He was the first Japanese government leader born after the second world war, and also the youngest Prime Minister in Japanese history.
He took steps toward balancing the Japanese budget, such as appointing a tax policy expert, Koji Omi, as Minister of Finance.
His first term lasted less than a year.
He launched an ambitious economic program, known as "Abenomics", to ease monetary and structural reform, intended to stimulate the Japanese economy.
Abe, in his four terms as the prime minister of Japan, sought to upgrade the strategic Japan–India relationship.
He initiated the quadrilateral security dialogue between Japan, the United States, Australia, and India in 2007.
His three-day visit to India in August 2007 inaugurated a new bilateral Asian alliance, building on the long history of friendly bilateral relations between India and Japan.
Headline image
https://upload.wikimedia.org/wikipedia/commons/6/65/Shinzo_Abe_meeting_with_Putin.jpg
Kremlin.ru, CC BY-SA 4.0 https://creativecommons.org/licenses/by-sa/4.0, via Wikimedia Commons
I Kid You Not now has a large readership across India and also parts of the world. If you want to write for us, you can submit your story here. You can also apply to become a news anchor. Apply here