Best Online Schools in India (Updated for 2023)
Virtual schooling in India developed as a necessity during COVID-19 times.
And while this benefitted many kids, there were those who could not access learning because they didn't have access to devices and the internet.
---
The best online schools in India became a necessity during COVID times. But, while this benefitted many kids, there were those who could not access learning because they didn't have access to devices and the internet.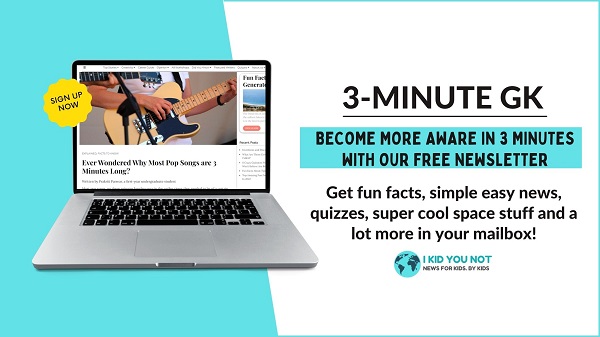 Online classes are of two kinds: synchronous and asynchronous.

Synchronous classes run in real-time, where students and educators interact in one session together from their respective locations. Asynchronous classes run on a more relaxed schedule, where students can access class materials at their preferred or scheduled hours from anywhere
For those who can access and afford it, online schools provide some benefits, when regular classes can't be held.
One, it gives you the flexibility to learn whenever you want, wherever you want wearing anything you desire. Online schooling also gives you the facility to learn from the comfort of your home in accordance with your schedule. Online courses give you the flexibility to spend time with family and friends. Mothers aren't rushing the incomplete craft project that the kid brought back home instead they're participating in real-time with other parents.

So if you are in search of a new-age online school for kids, here are some options
Top 8 online schools in India
The first to make our list of online schools in India is K8 Online School, which is also the first virtual school in India. It is one of the Cognia accredited schools, Cognia accreditation is a stamp of distinction recognised throughout the world.
1. K8 Online School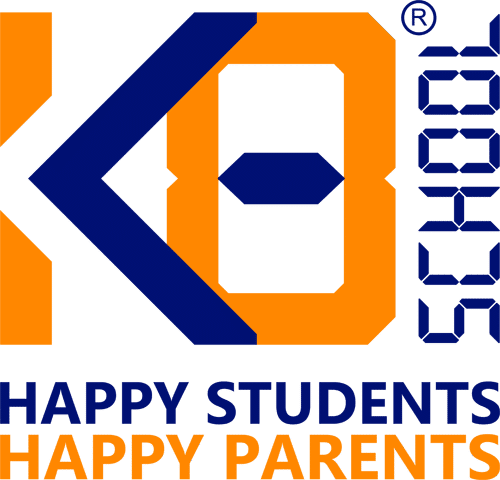 Here's what you need to know about this school:
This school is an online-first school – which means that it offers online school classes as a first step. It is "not a traditional school that is providing online classes because of disruption in normal life due to the pandemic. Instead, IT IS A FULL-FLEDGED 100% ONLINE SCHOOL!"
Students can log in from anywhere and study in wherever they are. Apart from being a middle school, it is also a great online primary school in India.
 This online school introduces world-class STEM education (STEM Education directs learning toward four specific disciplines namely – Science, Technology, Engineering, and Mathematics).  

The school works in collaboration with Discovery Education to corroborate their promise of world unparalleled education to your doorsteps. In addition to traditional courses, they offer a wide range of extracurricular activities including counseling, yoga, music,story-telling, and coding. They also host cultural exchanges,personality-development classes, and moral studies. 
Key features of K8 Online school:
The platform has simplified and automated the interface to reduce kids' dependence on their parents. Moreover, the faculty are trained specially in online teaching.
It stands among the best online schools for kids in India and covers nursery to 8th grades.
This school provides a maximum teacher-student ratio by ensuring no more than 15 students in one class which brings up the student-to-teacher ratio to 1:15
The school ensures that every child has enough spare time to invest in their goals so the syllabus is covered in classes conducted about 2-4 hours daily and they hold 'activity day' every second and fourth Saturday of the month to break the monotony
 2. 21K School

Unlike most of the online schools in India, 21k school didn't just digitalise the traditional schooling, instead revamped their curriculum to offer a choice between British, American, and Indian curricula.
Launched in 2020, the school brings a wide range of courses from Nursery to 12th grade,  21K School is both recognized and affiliated by Pearson Edexcel and it has also received Cognia accreditation.
They offer "groundbreaking learning experience by combining the best of hybrid and online education"
  Key features of 21K School
The school follows an annual academic calendar and conducts live classes online for 1-4 hours, 5-6 days a week
this platform creates tailored learning opportunities for different students including the gifted, at-risk, slow, and regular learners
It follows Keystone academic program which includes academic years divided into- Elementary school, Middle School and High School
The keystone program provides a pathway for students of grades 9-12 to achieve a high school diploma and similarly provides the opportunity of a dual diploma to students pursuing senior secondary education in the country
3. AOL School (Always on Learning)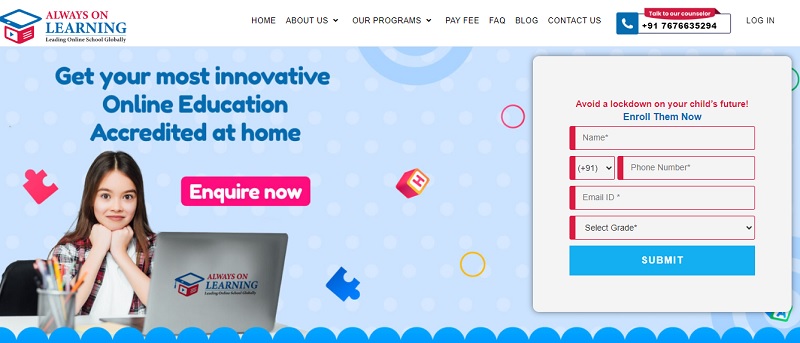 AOL School is one of the best online CBSE school in India, thereby making it a flexible choice for students aiming toward competitive exams.
It also offers The National Institute of Open Schooling (NIOS) affiliation as an option to students for various academic programs. The platform follows the aim of taking homeschooling to the next level.
Students get almost everything similar to a traditional school (like report cards, homework, parent-teacher meetings evaluations, tests, certificates, etc.). This school has managed to inculcate all the elements of traditional schooling into building a virtual school in India that caters to students from grade- pre-primary to high school.
Key features:
The noteworthy facility of the school is- IITian curated courses for grades 6 to 12. 
This platform covers the pre-primary level to improve kids' readiness in preschool-age groups, which brings it among the best online schools for Kids.
They limit 25 students per batch, allowing each student to have their share of the limelight and deliver smart textbooks for students till grade 5 on the platform
You can count this as one of the better online school for kids.
4. The Virtual School India (TVSI)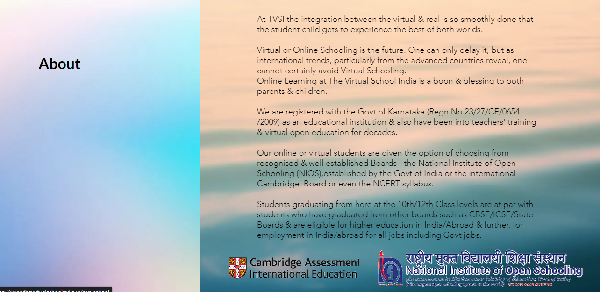 The Virtual School India is a reputed name among online schools in India.
The school offers two options – The National Institute of Open Schooling(NIOS) and the Cambridge Board. They are officially registered with the Government of Karnataka registration number (23/27/CE/0654/2009)

The syllabus extends from  LKG to 12th grade designed to maximize the teacher-to-student ratio, with two customized options namely 'Regular online schooling', which runs on fixed durations, and 'Premium online schooling' which offers flexible timing. While the former allows 15 students per session, the latter is capped at mere 3 students. 
When talking about K12 schools in India, they say that they are "India's 1st, foremost, largest & only" K12 online school/educational Institution that offers you a "unique blend of technology seamlessly enmeshed with appropriate personal interaction"
 Key features:
Throughout the academic year, the school keeps students oriented toward preparation for their chosen: Indian or international Board examinations 
 The Virtual School India also has a hybrid model. Students can choose to attend in-person sessions at their Kalyan Nagar, Bengaluru location. 
The school helps students to complete the entire pre-primary to class 12 education through its NIOS option. For Cambridge, there is a feasibility to pursue pre-primary to Grade 7.
5.Cyboard School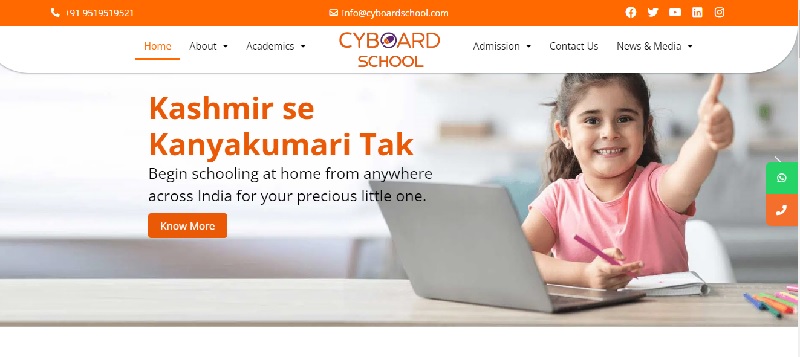 A virtual spin on traditional practices, Cyboard school puts you in charge of your kid's learning.
Their academic years run from April to March including four quarterly PTM's throughout the year. Moreover, they provide access to parents where they can monitor their child's progress anytime without waiting for quarterly PTM.
They stand tall among the best online schools for kids in India.  Their program uses a process known as 'Machine Learning to analyze and adapt to individual learning habits. They offer classes from Nursery to grade 6 for routine subjects like maths, computer science, social studies, and science, additionally, they offer language courses including  Hindi, English, and French language. 
Key features:
Their interface includes an AI assistant that enters every session with two teachers namely a Master teacher who carries out Live classes while integrating textbooks, and video content, and  Assistant Teacher who solves individual queries so no students lag. 
 They assign one special mentor to every 40 students to provide individual assistance to each child.
They use artificial intelligence(AI) tests to regularly test the skills of students, they have incorporated facial recognition features into their interface to recognise the topics that students find hard to understand.
6. The Class of One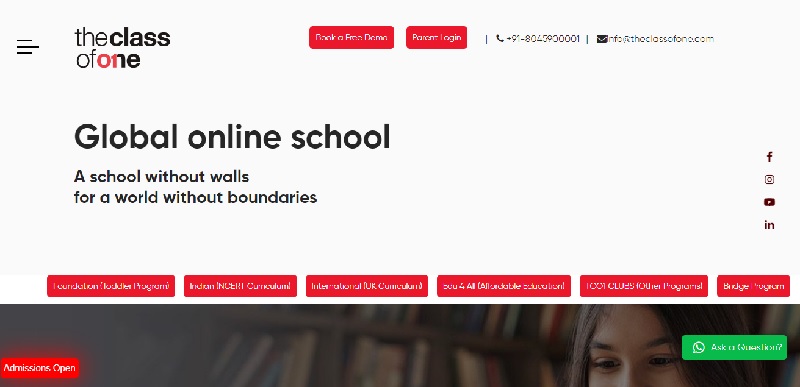 If you're looking for just a regular school on a digitalised portal, your search ends here. 'The class of one' is a great online primary school in India offering a toddler programme to kids above 1.8 years.
The programme is divided into two stages-. Foundation 1 caters to kids between 1.8 to 2.4 years and Foundation 2 comprises the age group of 2.5 to 3 years. They run parent-assisted classes every 3 days a week for 45 minutes to establish a learning foundation for your kids. 
Their classes extend up to grade 8, running 5 days a week for 2-5 hours a day.
Key features
They provide an excellent student-to-teacher ratio of 1:5 in their toddler program
The school holds various club activities on Saturdays and includes personality development classes for the betterment of students.
7. School of Distance Learning, Delhi University
School of distance learning, Delhi university is the most established virtual school in India. It offers a vast array of courses to lookouts in higher education including an MBA, Bachelor in Arts, commerce and science, and a multitude of post-graduate courses such as the master of arts in political science, history, and master of science with options such as biotechnology and microbiology. Being a pioneer institute of virtual learning, they've set up a placement assistance cell. The eligibility criterion of admission differs depending upon the courses but a student needs to have passed 10+12 with a minimum of 45 percent of marks

Key features
This virtual school in India provides some short-term distance learning courses that might raise the selection chances of students in various professions.
Their online interactive sessions give students opportunities to learn from the most experienced professors
8. KRM Virtual School
KRM aims to create an online space with real classroom elements. They use digital technologies in particular augmented reality(AR). Augmented reality creates a seemingly virtual world by enhancing the objects from the real world.
It is a one-stop solution to online tutoring for all K-12 classes for all boards including CBSE, ICSE, NIOS, Cambridge International General Certificate of Secondary Education(IGCSE) and International Baccalaureate (IB). the curriculum is divided into kindergarten, primary, middle and senior secondary levels.
The primary classes include Languages, EVS, Mathematics, Visual arts, Science, and Social science. The middle level includes grade 6-9 and the senior level encompass 10-12 grades
Key features
It enables students to join the homeschooling facilities through their Oxford University Press(OUP) Syllabus 'Regular virtual schooling' and also allows self-paced learning from the rest of the other boards
They provide career assistance learning at the senior secondary level along and develop students to be able to thrive in the best universities across the globe.
Who can join this online school?
Students looking to join the virtual school (Home Schooling) from K-12 (OUP Syllabus) classes can enroll.
Those who need self-paced online learning from K-12 Classes (CBSE / ICSE / CAMBRIDGE IGCSE / IB / NIOS)
Online schools in Bangalore
Here's a list of the best online schools in Bangalore
1. Spruha Virtual School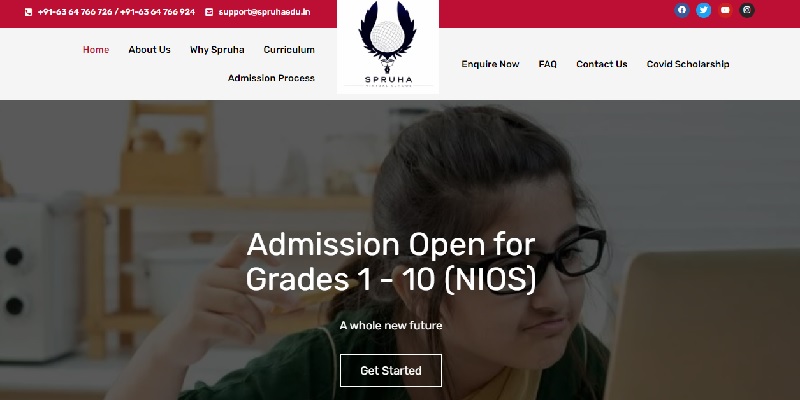 Spruha has earned a reputation as one of the finest online schools in Bangalore. They stand among 100 percent of online schools in India offering both CBSE and NIOS curricula.

They offer classes ranging from grade 5 through 10 including subjects like English, Mathematics, Science, Social Science, Business Studies, Home Science, Psychology, Indian Culture & Heritage in language. A student can opt for a minimum of five subjects with English being a compulsory one although they also provide classes for other languages including Sanskrit, Marathi, Kannada, and Hindi.

They focus on the holistic development of children keeping a student-to-teacher ratio of 30:1. In co-scholastic programs, they provide singing, dance, and training on musical instruments along with extremely truncated school hours.
Key features
Their Bengaluru campus offers sports facilities for football, cricket, and tennis on weekends.
Their "COVID Scholarship" program offers a 50% scholarship to children who have lost one or both parents during the COVID pandemic
2. Academy Online School
This platform works on a unique 'Academy Curriculum' devised by the founder Rajani Rao to deliver a tailored approach to a 21st-century education. Her curriculum is currently deployed in more than 300 schools in India.
The portal offers 3 programs namely the Nursery program, Junior program, and senior program. The former is designed to meet the needs of 21st-century children above 4 years and the latter two target the age groups above, 4, and 5 years. The program enrolls students in a basic module that has four dedicated class teachers who conduct one live class per week for 40 minutes.

Key features:
Their basic module includes pre-recorded videos of 10 months of coaching classes. The module is accessible for an entire year.
This unorthodox curriculum is best suited to dedicated students as the classes require self-regulation, it might be a great alternative for students preparing for competitive examinations.
Online schools in Mumbai
1. AAS Vidyalaya (Anytime Anywhere School)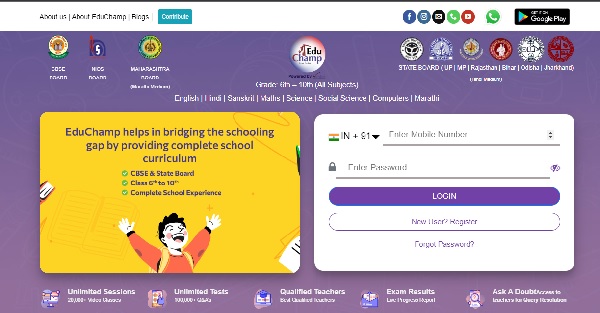 AAS Vidyalaya registers first in the list of online schools in Mumbai, it is a start-up founded with the idea of providing quality education at affordable rates to students of 6th – 10th. Supported by the Indian Department of science and technology, the platform offers all the regular subjects-Maths, Science, Social Science, and Computers including language courses in English, Hindi, Sanskrit, and Marathi.

This digital platform follows the NCERT CBSE curriculum along with NIOS and boards of several states like UP Board, MP, Bihar, Rajasthan, and Maharashtra Board.
Key features
The portal provides a digitized version of a usual school, with regular tests, report cards, and parent-teacher interactions.
Despite being a digitised school, The paper patterns align with traditional examination papers making them ideal practice papers for boards.
Hope you found this list of the best online schools in India useful.
Also Read
The List of Most Watched YouTube Videos in 2022