In Conversation With Hardik Vaghela
Written and interviewed by Krishna Saproo, a grade 12 student. This is part of a series called Kehwa with Krishna. Here is episode 1 – an interview with Hardik Vaghela…
---
Written and interviewed by Krishna Saproo, a grade 12 student. This is part of a series called Kehwa with Krishna. Here is episode 1 – an interview with Hardik Vaghela

"It is not easy to determine the nature of music or why anyone should have a knowledge of it."~ Aristotle

Music is one of humanity's most universal forms of expression and communication, and it can be found in the daily lives of people of all ages and cultures all over the world. It's a powerful manifestation of mankind. It's something that affects us all.
Introducing, our guest for today – Mr. Hardik Vaghela.
Hardik Vaghela is a creator, music producer, and entrepreneur. He is the founding member and keyboard player for Alif. Alif writes poetry in Urdu and Kashmiri. The sound is an amalgamation of ethnic flavours and blends of different genres which is beautifully crafted into contemporary poetry.
Alif is the winner of the 8th Dada Saheb Phalke Award for 'Best Music Video' for the song 'Lalnawath' and IRAA (Indian Recording Arts Academy Awards) for 'Best Music Production – Independent' for their song 'Like A Sufi'.Alif's song "Katyu Chuko" is part of Imtiaz Ali and Sajid Ali's film – Laila Majnu.
In addition, Hardik is also the co-founder of the music services company – Muziclub, which in its 11 years of existence has trained over 15000 students, has 3 centres in Pune and one in London.
Hardik began his musical journey in 2003 and has 15 years of experience under his belt in the Indian Independent music circuit and music education field. Hardik has the ability to write a song about anything; as evidenced by his Instagram, he has written songs about topics as diverse as hunger, anniversary, and laziness.

He was a part of the Siyah Part 1 and 2 albums, which are considered masterpieces.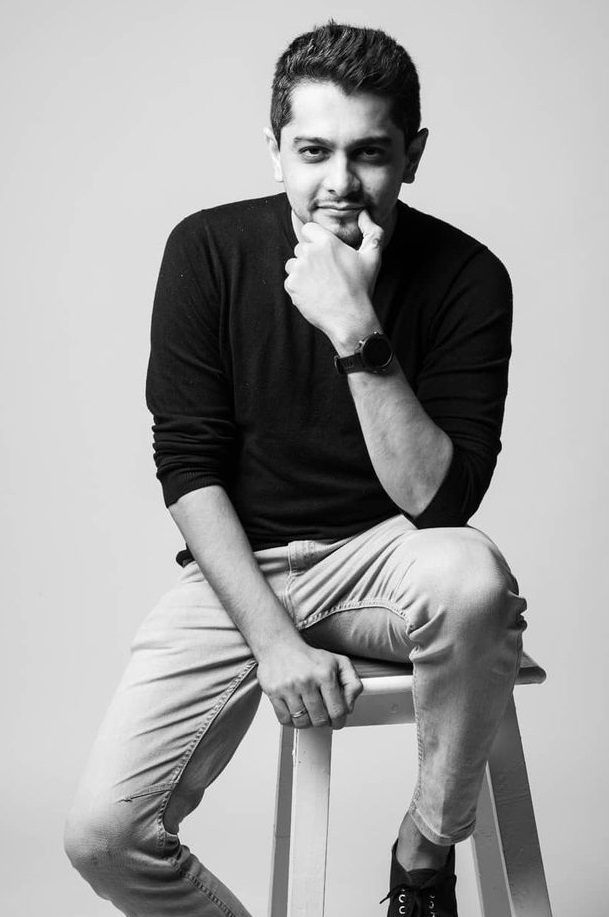 Here's a conversation with him.

KS. What first got you into music?
HV: I guess my parents influenced me a lot. They are not musicians but they loved to sing. I learned singing/tabla/violin for a few years in school in the 'Hobby' class but then got really interested during my college years when we formed the first band in college.

KS . What skills have you learnt that will help you in your singing career?
HV: I am still learning vocals. But learning any art form requires discipline and practice. So I guess the skill that is really important is self-discipline.

KS . How is lockdown treating you?
HV: I guess this is an old question? Lockdown was a very self-rejecting journey for me. I learned a lot about myself during that period.

KS. Who inspired you to make music?
HV: I believe it was a multitude of influences. From all the bands and artists I admired while I was in college to all the old bollywood songs I grew up listening to.

KS: What made you decide to pursue a career in entertainment?
HV: It was honestly more of a rebellious decision. I didn't wish to do what everyone else was doing and being in a band was like being a rebel at that time (I am talking about the early 2000s.) But then slowly it built into something that I loved and then into a passion. Music comes naturally to me and that is why I was drawn towards it.

KS: How would you describe the music that you typically create?
HV: All music is about sharing personal experiences. When experiences are narrated to someone, they become stories. When stories are weaved into poetry and coloured with music, you present them as a performance. That is the entire process for me.

KS: In terms of the overall composition, what is your favourite song and why?
HV: It is very difficult to answer this question. The music taste keeps changing. I used to love Bollywood music growing up, then for into rock, then metal, then fusion, and then pop…. It is difficult to pinpoint one song. I gravitate towards a well-produced song that is a little different from the norm.

KS: How have you been able to use social media during these unprecedented times? Are you finding that you use it, even more, to stay connected to fans and other musicians?
HV: I actually took a break from social media during most of the COVID period to focus on myself and my art.

KS: Thank you for your time. So given these unusual Covid-19 times, what does a typical day look like for you? How have you adjusted to these times?
HV: The whole reason for being in this field I am in is that no 2 days are the same. And that is exciting. Some days we are working on our own songs, some days we are composing background scores for a film, and other days we are rehearsing either together or with the band.

This was Krishna Saproo in conversation with Hardik Vaghela.

I Kid You Not now has a large readership across India and also parts of the world. If you want to write for us, you can submit your story here. You can also apply to become a news anchor. Apply here