Tina Dabi IAS, Biography, Age, Story & More
Tina Dabi is an IAS officer who became famous in 2015 after she stood first in her very first attempt at the civil services examination.
---
Tina Dabi is an IAS officer who became famous in 2015 after she stood first in her very first attempt at the civil services examination.
Read on to know all about her – facts like – Tina Dabi timetable, the books she read and a little bit about her personal life.
Tina Dhabi- in brief
Tina Dabi is the first woman from the scheduled caste woman to top the UPSC exam.
Continuing the streak of her achievements she bagged the Presidential Gold Medal
She is currently married to IAS officer, Pradeep Gawande and they are expecting their first child in September 2023
During the exams, Dabi's timetable began at 7: 00 AM and consisted of about  7-8 study hours daily.

Here's more about her
Tina Dabi's biography follows the journey of a young ambitious girl from Bhopal working her way up to the Indian Administrative Offices. For one, she is the first woman from the scheduled caste woman to top the Union Public Service Commission(UPSC) Civil Services Exam(CSE) exam.
What is the UPSC exam?
Before we get into Tina Dabi's achievements in the IAS sector lets understand what the UPSC and IAS exams are.
Union Public Service Commission (UPSC), is an umbrella organization that conducts various examinations at the central level. IAS, IPS, IFS, IRS, and IFoS are one of these exams.
The full form of IAS is Indian Administrative Service. The Civil Services Examination is one of the toughest examinations in India. This post is considered to be the most reputed and well-paid among other government jobs.
An IAS officer is given three types of assignments – field, state secretariat/ public sector undertakings, and central secretariat assignments.
This includes working on government responsibilities like drafiting government schemes and policies.
An IAS officer also works with various departments to elect representatives.
An IAS officer also responds to natural calamities, riots, and major accidents in their area of responsibility called a jurisdiction.
A quick word on Tina Dabi's Life
IAS Tina Dabi was born in a middle-class Dalit family in the capital city of Madhya Pradesh, Bhopal on November 9, 1993. She studied in Bhopal till 7th grade and completed the rest of her studies in New Delhi, which she also considers her hometown.
She pursued her secondary education at the Convent of Jesus and Mary, New Delhi, and later on went to pursue a degree in Bachelor of Arts in Political Science from Lady Shri Ram College for Women, New Delhi. 

She belongs to a Scheduled caste(SC) Hindu family. Both her parents have taken and succeeded in clearing the IES UPSC exam( IES Stands for Indian Engineering service). Her father Jaswant Dabi is a general manager of Bharat Sanchar Nigam Limited(BSNL) and her mother is a former IES.
She has a younger sister Ria Dabi, who is also an IAS officer. 
In fact, both Ria and Tina Dhabi went to the same school and the same college. Ria prepared for the UPSC exams just like Tina Dhabi and in 2020, passed the exams gaining the 15th rank in her batch.
According to Tina Dabi's sister, one might have to give up their social life while preparing in order to stay consistent and she credits her elder sister for guiding her, she also realizes that due to changes in paper patterns and syllabus, everyone would have to work for most things on their own.

Although her parents were administrative officials. Ms. Dabi worked just as hard to make her dream come true.
She is also a 12th-grade CBSE topper and during her 12th grade graduation, she landed the title of 'student of the year'. 
At the age of 18, she was sure that she wanted to become an IAS officer. To pursue this dream, she joined RAU's IAS study circle and dedicated herself to the goal. She dedicated 8-14 hours each day consistently to crack the IAS exam.
In 2015, this dream came true. Not only did she pass the IAS exam but got the first rank in India!
We've got each element of her success story covered in Tina Dabi's biography.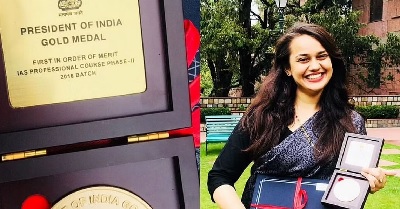 Tina Dabi's career
Continuing the streak of her achievements she bagged the Presidential Gold Medal for 'First in Order of Merit' in the two-year training program at the Lal Bahadur Shastri National Academy of Administration in Mussoorie.
She wanted to work for women's empowerment in Haryana and opted for the Haryana state cadre (Cadre refers to the state or union territory which may be assigned to an IAS or IPS officer) as her first preference but was unable to do so due to an administrative hindrance. She was then posted in Rajasthan cadre which was her second preference.

As of July 2023, she is serving as Joint Secretary in the Finance department of Rajasthan.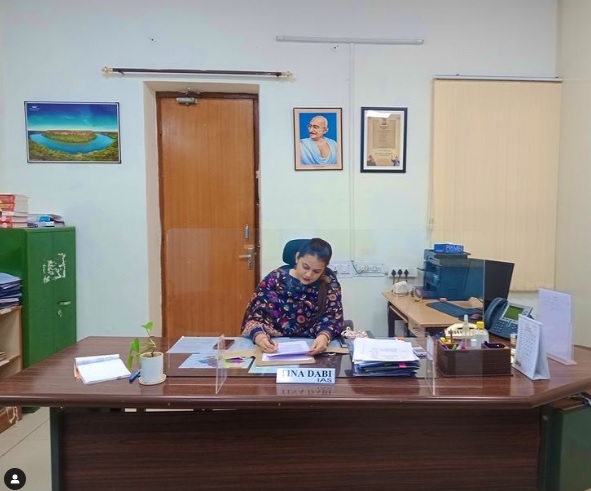 She carried out a number of amazing efforts while serving as Collector in Jaisalmer, Rajasthan, including coordinating the three-month "Jaisalmer Shakti Ladies First" campaign to break down social barriers and empower women and encourage their education.
She has upheld this position since 2020. Before this, she served as the chief executive officer of the Zilla Parishad in Sri Ganganagar. IAS Tina Dabi's age was only 22 when she took to the administrative office. 
Read on to discover more about her.
IAS Tina Dabi's mark sheet is an emblem representing a prized moment in Indian history when an Indian SC woman grabbed AIR 1 in UPSC examinations for the first time with a crushing score of 52.49 percent. According to her proud father, she has always been a bright student and brought back home wonderful mark sheets since childhood.

Tina Dabi's achievements

In the results of CBSE conducted board exams of 12th grade, Tina Dabi's marksheet displays a high score of 96.25 percent with perfect scores in political science and history. It comes as no surprise that she undertook a bachelor of arts(B.A) in Political Science at Lady Shri Ram College, New Delhi in 2011 and topped in the subject during the first year of graduation.
She also opted for Political Science and International Affairs as her optional subject in IAS Examination and scored 128 out of 250. Tina Dabi Marksheet shows her best score in written subjects is 171 out of 250 in the paper on political science and international relations. She cleared the interview round with a score of 195  and cracked IAS with the highest score of 1063 out of 2025 in the 2015 batch. 

The mark sheets made headlines after the declaration of the result in 2016. The year is marked in the UPSC calendar as "IAS Tina Dabi Age" 

Tina Dabi's marksheet is a memento of persistence and dedication for aspirants all around India.

Tina Dabi's personal life
Many have asked the question – who is Tina Dabi's husband. We tell you here
Dabi has been married twice. She met her first husband Aathat Amir Khan, a fellow IAS topper at the IAS felicitation ceremony in 2015. Athar Khan was the only other person to top the UPSC exam from Kashmir (next to IAS Shah Faesal), making him a great achiever as well. He is an IAS officer and an IIT graduate as well.
The couple tied the knot through court marriage in 2018. To many around the nation, this marriage symbolised communal harmony but they parted ways in 2021, after three years of marriage.
The 28-year-old IAS officer is currently married to IAS officer, Pradeep Gawande.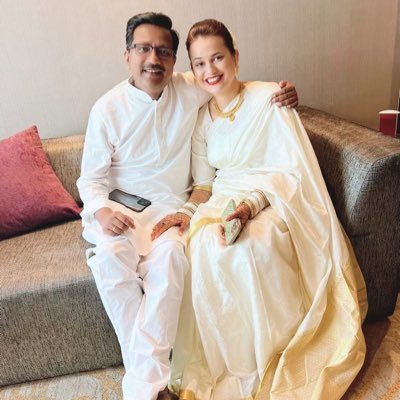 The couple exchanged vows in April this year in Jaipur, Rajasthan. Popularised as ' IAS Tina Dabi husband', Mr. Gawande is a doctor by profession. The 39-year-old officer completed his MBBS from a Government Medical College(GMC) in Aurangabad and practiced in several hospitals in New Delhi as a doctor before taking up civil services.
Tina Dabi's husband Pradeep Gawande, is 3 years senior than Ms. Dabi and 13 years older than her. The age gap in the wedlock transpired debates around the nation but Ms. Dabi responded by saying "Temperamental, compatibilities, cultural factors and mutual understanding are way more important". She believes age should not be a deciding factor in marriage.

Pradeep Gawande is currently posted as the Director of the Department of Archaeology and Museum in the same administration as hers (as of 2023)

Tina Dabi's Time Table
Aspirants throughout the world are known to have very discrete timetables to allot their time better. Maintaining a timetable is an effective technique in an examination strategy. Unfortunately, all the timetables may not have cracked the formula to success but Tina Dabi's timetable cracked that code!
Tina Dabi's timetable began at 7: 00 AM and consisted of about 7-8 study hours daily except a day before any exam when she extended the study hours to 11-14 hours. Usually, she began her studies with a thorough reading of newspapers for about an hour followed by a 3-4 hours long study session.
She suggests all the aspirants dedicate short durations for breaks between the long study periods in order to relax their stressful schedules a bit. True to her advice, she included rationed time for dinner, lunch, and leisure in her schedule. She also advises aspirants to memorise the UPSC syllabus and she stresses a lot on revising the study material weekly.

Tina Dabi Timetable was divided into three slots. The first slot began at 8:30 AM and continued till about 2:00 PM. She covered lengthy, energy-consuming topics in this slot as the morning high helped her focus better. The second slot lasted for mere 2 hours and covered topics of less difficulty that would not wear off her energy. After dinner, she began her last slot which was solely dedicated to revision.

According to Ms. Dabi, she can not stress enough the importance of revision. Once you've covered all the topics, she recommends revision of the entire syllabus at least 3 times and weekly revisions during preparation.
Tina Dabi's sister Ria Dabi is also an IAS officer. She secured All India Rank 15 in UPSC civil services examinations 2020. One can even argue that bureaucracy runs in their family.  

Tina Dabi's sister
The 23-year-old all-India topper was born in Bhopal, Madhya Pradesh on July 12th,1998. She was schooled with Tina Dabi in the Convent of Jesus and Mary. she is also an alumnus of Lady Shri Ram College of Delhi University. There she followed in her sister's footsteps and pursued BA in Political Science. She was motivated by her elder sister toward Civil Services when she scored AIR 1 in 2015. Both the Dabi sister consider their mother as their role model. She also believes the caste system should not exist.

Unlike Tina Dabi who managed UPSC preparations and college studies together, Tina Dabi's sister decided to prepare for UPSC after her graduation. She joined IAS Coaching at Vajiram and Ravi coaching centre in New Delhi and studied for about 10 hours a day and did not lose patience during COVID times.

She persisted through all the delays in the exam due to COVID-19 and continued her preparations through online classes. Tina Dabi's mark sheet might have impressed you already but Ria Dabi did not lag either. She sat for the exams in 2020 and scored, 1021 marks out of 2025. The fifteenth highest of her batch!

According to Tina Dabi's sister, one might have to give up their social life while preparing in order to stay consistent and she credits her elder sister for guiding her, she also realises that due to changes in paper patterns and syllabus, everyone would have to work for most things on their own.

Tina Dabi's UPSC Book List
According to Tina Dabi, there is no ultimate book for any subject, different books cater to different topics of the same subject. She actively took notes during her coaching classes and sourced her reading material from NCERT as well as guides in the market. For her prelims, she studied ancient history and medieval history from NCERT alone and referenced it for some of Modern History as well. NCERT was her go-to book for physical geography in both Indian geography and world geography.

She recommends Vipin Chandra, History of Modern India, and Modern Spectrum book for Modern history, as Spectrum book gives the summary of each chapter at the end which can be used as revision points as well.
For a vast topic like art and culture, which is a problematic subjects for most aspirants, Tina Dabi recommends Vajiram class notes and the current affairs booklet of Vision IAS
She considers Laxmikant, the Bible of UPSC, and recommends a thorough reading of the book multiple times.
She didn't consider any books on economics. She just kept up with current affairs. Being a humanities student she faced problems with science but according to her, that's no tough nut to crack. All you have to do is read about the current developments and be aware of the ongoing research. Even the interviewees are interested in just that.
Through her experience, she has found that aspirants tend to ignore the topic of environment and ecology. According to Tina Dabi UPSC Book List, one should consider Green book by Shankar publications to cover this topic

For topics like schemes, policy, environment, and ecology she recommends a daily practice of reading new papers and current affairs.

For the general studies paper in UPSC Mains, Tina Dabi majorly relied on her coaching notes, and Vajiram notes of her teachers Mr. Ojha and Mr. Vikrant, Vajiram booklets, and Vipin Chandra, History of Modern India.
For topics like the role of women, and globalisation in India Tina Dabi UPSC Book List suggest Vajiram's yellow booklets of sociology. 

According to her no matter how many books you consult, revision is the most important factor that differentiates between rank holders and achievers. 

That completes our Tina Dabi UPSC Book List.
What's next for Tina Dabi?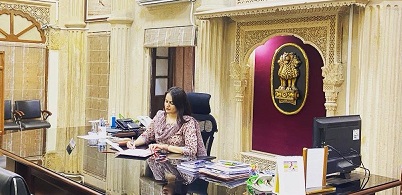 Tina Dabi is currently expecting her first child with her husband Pradeep Gwande in September of 2023.
She has requested the Rajasthani Government to put her in a non-field posting in Jaipur. For the foreseeable future, Tina Dhabi is expected to do work from an administrative position in Jaipur, continuing her great work in making a positive change for India.
IAS Tina Dabi believes UPSC is a long-drawn exam that leads to frustration and depression. One has to brave mental adversities and remain patient through the journey.

That was all in our Tina Dabi Biography. If you're an aspirant you also take interest in political science check out the reason why should you study political science?
---
You May Also Like
Facts About Thomas Edison
Facts About Albert Einstein
Facts About Elon Musk

---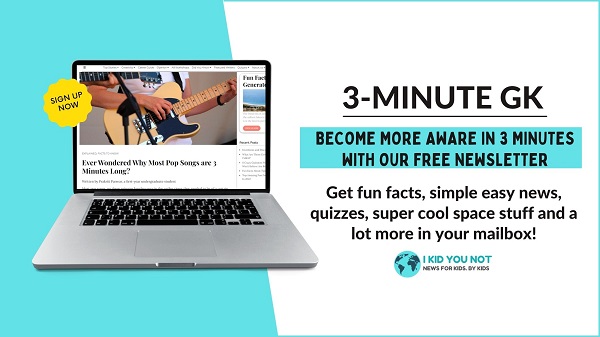 Better Your Child's G.K. In 3 Minutes – Get This Free Newsletter
Get fun facts, simple and easy news, quizzes, and lots of other interesting things to read in your mailbox – for free! It's what we call GK-on-the-go!Paragraph

I Kid You Not now has a large readership across India and also parts of the world. If you want to write for us, you can submit your story here. You can also apply to become a news anchor. Apply here

Headline Image source: https://mobile.twitter.com/dabi_tina