Kehwa With Krishna Episode-5. Interview With Mohammad Muneem
Written and interviewed by Krishna Saproo, a grade 12 student.
---
Written and interviewed by Krishna Saproo, a grade 12 student. This is part of a series called Kehwa with Krishna. Here is episode 5 – an interview with Mohammad Muneem (you can catch episode 4 here)
Music is forever; music should grow and mature with you, following you right on up until you die. ~Pau
Music is an attitude that responds to the life, especially rock and roll. It is a spiritual expression, showing the creator's belief, same as the poetry. So I would say, music with its idea is simply poetry, they both tell of love, joy, sadness, or criticism of life. Many formal relationships exist between the two modes of expression. Both music and poetry are used to communicate sentiments and explain events. They have a lot in common. Music and poetry both express sentiments or events that are important to the singer or author, and they appeal to all levels of emotion. Music and poetry have a strong bond. Many poets have adapted their poetry into musical lyrics, and many poems are written with the intention of being sung.
Introducing, our guest for today – Mr. Mohammad Muneem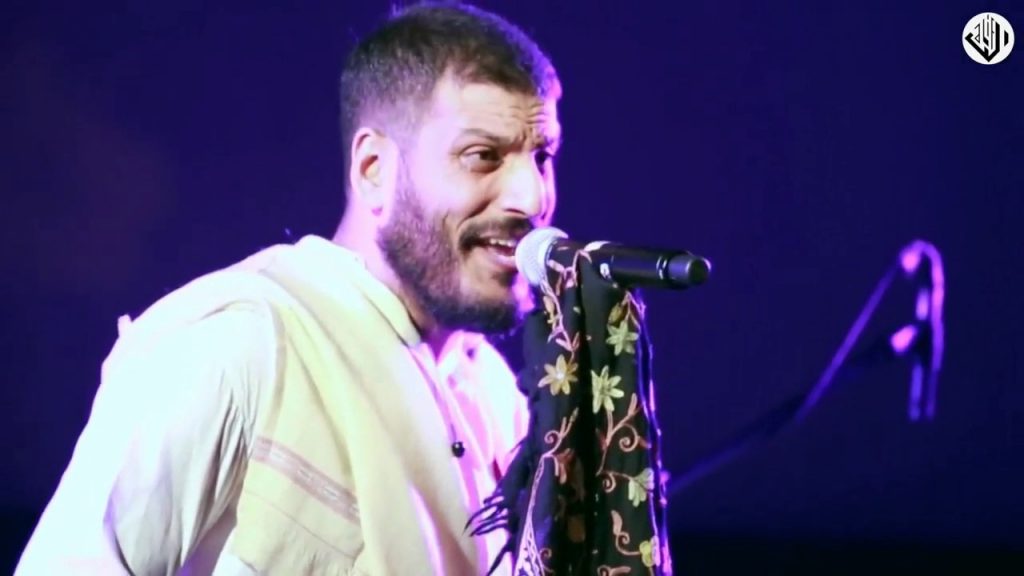 Mohammad Muneem Nazir, is a poet singer-songwriter and co-founder of the music band, Alif : Urdu & Kashmiri poetry, contemporary music with ethnic
Muneem had studied engineering but found his calling in music. His musical journey began from Kashmir in 2008 and two years later, he co-founded 'Alif' with another musician Hardik (Episode 01), who is now his bandmate.
Alif is the winner of the 8th Dada Saheb Phalke Award for 'Best Music Video' for the song 'Lalnawath' and IRAA (Indian Recording Arts Academy Awards) for 'Best Music Production – Independent' for their song 'Like A Sufi'.Alif's song "Katyu Chuko" is part of Imtiaz Ali and Sajid Ali's film – Laila Majnu.
He is the man behind creating Siyah Part I and II. Both are the masterpieces. In both of them, Muneem is trying to reflect Present and Past respectively. Siyah (Black) signifies the darkness where everything occurs, emerging through and creating light.
This is the source of all strength and light. Muneem has drawn from personal experiences for all the lyrics and music heard across the Siyah. He believes writing about these experiences helps him get it out of his system.
Listening to Alif is like therapy; you would feel peace and at the same time a need to introspect yourselves. Many of their songs are dark and have satire. Through his poetry he is trying to counter extremism and hate. Alif is a force trying to unite everyone with their soulful songs.
Muneem notes that one of Alif's songs feature in the forthcoming second season of the drama series Made In Heaven. A feature film directed by Shlok Sharma, written by him and Shilpa Shrivastava, produced by Anurag Kashyap and Navin Shetty shall have ALIF's songs and background score.
Here's a conversation with him.
KS: What first got you into music?
Muneem: It's more about what it made me feel. Music and arts made me believe in the magic of possibilities. Things that can be….
KS: What is your creative process like?
Muneem: Never fixed! However there is a routine that I do follow on the skill side of it.
KS: Who inspired you to be the part of music industry?
Muneem: A great track! A great film! A great line! A great frame
KS: What is your song writing process? Does the melody come first or the lyrics?
Muneem: Like I said it's never fixed I would like to trust the process of it. And try and make mistakes by picking up and brushing my skill.
KS: What do you feel about the current independent music scene in the country?
Muneem: The scene is passionate; the hustle is real and is growing day by day, we are in for some great scene.
KS: Tell me about your process. How do you find inspiration when working to a deadline?
Muneem: I trust the process as mentioned above.
KS: How did you come up with your band name?
Muneem: Alif means to be one to be united to be strong. It's an ode to unseen feelings and magic that we feel and can't see anything and everything between pain and happiness. The name just happened because you got to trust the process.
KS: What is one message you would give to your fans?
Muneem: "Fans" is not a word I can relate with a lot but people who receive our work with love and warmth to them.
Never stop believing never compare yourself with anyone you are you. Find people who let you be yourself.
KS: When performing and the crowd is singing along how does that energy make you feel?
Muneem: It feels like Magic is real
KS: Did your style evolved since the beginning of your career?
Muneem: Always changing! Always making mistakes! Always evolving
KS: What sparked the idea for "Siyah"?
Muneem: The purpose of darkness is for light to exist! Siyah means black and where everything occurs.
KS: We have received a question from your big fan and that's obviously me (Laughing)- What's the mystery behind that 'Shawl' which you keep always with yourself? Is that something close to your heart just your songs are. We recently have seen its appearance in Azizo and many a times in your concerts.
Muneem: It's a reminder of beginning!
KS: Is there a particular place where you feel most creative?
Muneem: If you are talking about finding muse then i guess you have some good days some really good days. But I think tenacity matters the most.
KS: Let's talk about the interval of 'Siyah' Azizo which was released recently.–
What was the message that you were trying to convey through this song? What was your inspiration for this song?
Muneem: Azizo, there is a blog that is out there a perception 🙂
KS: At last I would like to ask, I have listened to many of your songs some of them are dark and some are satire. Is there any special reason for this that drives you to do this?
Muneem: There is no reason why we do what we do the way we do. What feels natural and honest I trust that. I'm grateful to be able to do what I do with my team! I proudly remind myself I am a product of my mistakes and my team.
Thank you for your time. It was nice talking to you. Adios! Drink Kehwa and Stay Safe!
This was Krishna Saproo in conversation with Mohammad Muneem.