Key Facts of Mr. Modi's Recent USA State Visit
Written by Sthitee Mohanty, senior writer
India's Prime Minister Narendra Modi drew in a new era of India-USA ties in his first state visit to the United States of America on US President Joe Biden's invitation.
---
Written by Sthitee Mohanty, senior writer
Key points summary
PM Modi completed a four-day state visit on US President Joe Biden's invitation
Defense deals on Indian fighter jets and tech deals with Google etc made
Cultural exchange through state dinner, gift-giving
Mr. Modi addresses the US Congress for the second time, becoming the only Indian PM to do so
This visit signals stronger India-US ties Indian Prime Minister Narendra Modi's four-day state visit concluded on 24 June 2023.
Here's about the tour – why he went and its impact on India's political future.
India's Prime Minister Narendra Modi drew in a new era of India-USA ties in his first state visit to the United States of America on US President Joe Biden's invitation. The four-day visit focused on joint India-US projects primarily in the technology and defence industries.
This visit was preceded by U.S.A.'s National Security Advisor Jake Sullivan's visit to New Delhi.
5 Key Indo-US Deals Made in This Visit:
A major semiconductor factory to be built in India
Easier H1-B renewal process without return to India
USA company GE Aerospace will manufacture fighter jet engines together with Hindustan Aeronautics Limited for the Indian Air Force
India joined NASA's Artemis Accords
Reinstating the University of Chicago Vivekananda Chair and establishing a new University of Houston Tamil Studies Chair
Along with such diplomatic discussions, Mr. Modi attended a private dinner hosted by the President and the First Lady of the U.S.A in the White House. This was later followed by an official state dinner, with guests like Mukesh Ambani and Anand Mahindra.
What is a state visit?
State visits indicate a deepening of ties between the invited country and the invitee. Only countries the U.S.A. wants to build stronger political alliances with are offered US state visits.
These visits include ceremonial gestures, diplomatic meetings, cultural exchanges, media coverages, and symbolic gestures.

Biden hosted France's President Emmanuel Macron and South Korea's President Yoon Suk Yeol, before Indian PM Narendra Modi.
Details of PM Modi's US State Visit
Ceremonial Gestures: State dinner, 21-gun salute, red carpet reception, an exchange of national anthems.
Diplomatic Meetings: bilateral talks held, Biden and Modi held defense and technology industry-oriented discussions in the White House
Cultural Exchanges: Mr. Modi gifted the Bidens a lab-grown diamond, a sandalwood box containing a Ganesha idol, and a Upanishada book; he celebrated International Yoga Day with the people of New York.
Media Coverage: Joint press releases were made regarding diplomatic decisions taken by both countries, news conference where Biden and Modi answered questions jointly
Symbolic Gestures: Repatriation (return to home country) of Indian relics.
Who else did the Indian PM meet?
Mr. Modi addressed the US Congress during this visit on 23 June 2023. This made him the first Indian Prime Minister to address the joint session of the US Congress twice. Only Israeli PM Benjamin Netanyahu was granted the same opportunity.
He also addressed a crowd of Indian Americans in Washington DC on the same day.
5 Key Highlights of Mr. Modi's US Congress Address
Women Empowerment by mentioning Indian President Draupadi Murmu
India's firm anti-terrorism stance
A re-iteration of India's democratic values
Climate change goals and India's accordance with the Paris Accords
Stronger Indo-US ties through bipartisan agreements
Other than the President and First Lady of the US State, PM Modi met CEOs of major companies like Amazon, Boeing, and Google on 24 June 2023. Talks of an increased investing rate in India were held.
What is the future of Indo-US ties?
India is U.S.A.'s answer to the rising power of China. This strategic partnership based on technology and defense is the US State's political intervention in the Indo-Pacific Region.
The impact of this visit on global politics
As China becomes a threat to other Asian countries like Sri Lanka, Vietnam, Japan, and so on, the US State looks to India as a check on China.
India continues to be a strong member of the political Quad formed among the U.S.A., Australia, Japan, and India itself. India continues to trade with Russia as well.
Was Narendra Modi the first Indian PM to visit the USA?
He was not. Eight other Indian PMs have visited the US. They include:
Jawaharlal Nehru and Atal Bihari Vajpayee with 4 trips each, Indira Gandhi and Rajiv Gandhi with 3 trips each, PV Narasimha Rao with 2, and Morarji Desai, IK Gujral, and Manmohan Singh once each.
Before PM Modi, only President S Radhakrishnan, and PM Manmohan Singh made official US State visits in June 1963 and in November 2009 respectively.
How is a state visit different from an official visit?
| | |
| --- | --- |
| Official Visit/Working Visit | State Visit |
| Less pomp and show | Grander and more ceremonial, with White House state dinner |
| Weaker political alliance | Stronger political alliance |
Have other Indian politicians visited the USA oficially?
Recently, Indian National Congress member Rahul Gandhi visited the U.S.A. on June 2023.
Did you know that in the US Congress, a group of Indian-American lawmakers have a unique name for themselves?
Michigan's Shri Shamal Thanedar, California's Dr. Ami Bera and Ro Khanna Washington's Pramila Jayapal, and Illinois' Raja Krishnamoorthy informally call themselves the Samosa Caucus. Current US Vice President Kamala Harris was also a part of this group. PM Modi mentioned this group during his US Congress address.
As the visit continues to garner the world's attention even after its end, many political scholars draw attention to the effect of this visit on Modi's own political agenda. Once denied a US visa, the PM has now completed a four-day state visit to the U.S.A.
Some human rights groups claim that this visit heralds the U.S.A.'s acceptance of the Modi government's alleged human rights violations in the carrying out of their policies.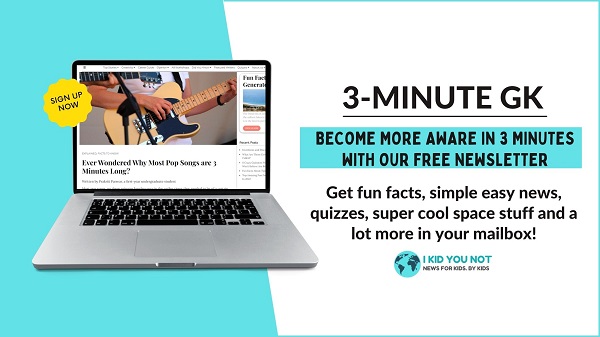 Better Your Child's G.K. In 3 Minutes – Get This Free Newsletter
Get fun facts, simple and easy news, quizzes, and lots of other interesting things to read in your mailbox – for free! It's what we call GK-on-the-go!
I Kid You Not now has a large readership across India and also parts of the world. If you want to write for us, you can submit your story here. You can also apply to become a news anchor. Apply here