A Look Back in to the History of Pride [Updated 2023]
Written by Vedika Pathania, a second-year student (written in June 2021).
Although the struggle for acceptance of queer people has been going on for a long time, a major event that is recognised globally as a catalyst for major gay rights movements were the Stonewall Riots of 1969…
---
Written by Vedika Pathania, a second-year student (written in June 2021)

If you are wondering – when is Pride month, then we're here to tell you all about this day and its story.
First things first, Pride month 2023 (and any other years) is always June. We bring you this superb piece on the history of Pride.
When one looks at Pride, one thinks of rainbow stripes, acceptance, and flags of various colors. However, the history of pride month, which is celebrated worldwide in June, goes back to years of struggle.
What does Pride mean?
Pride, which used to be known as Gay Pride earlier, is a term used to recognise the LGBTQ identity and the affirmation of equal rights. It is a celebration of the dignity and diversity in the LGBTQ community.
LGBTIQA+ Meaning
'LGBTIQA+' stands for:
Lesbian, gay, bisexual, transgender, intersex, queer/questioning, asexual.
Queer
'Queer' is an umbrella term that can mean any kind of diverse sexuality or gender
To understand the history of pride month and the origin of the pride movement, we need to backtrack a bit.
Here's a quick look
Understanding the origins of Pride Month
Although the struggle for acceptance of queer people has been going on for a long time, a major event that is recognised globally as a catalyst for major gay rights movements was the Stonewall Riots of 1969.
What were the Stonewall Riots?
It all goes back to June 28, 1969, when police raided the Stonewall Inn, a bar in New York where members of the LGBT+ were frequent visitors. The raid led to a series of clashes and riots with the police, which carried on for a few days.
This incident led to a spontaneous protest by the sexual minorities who used used to face constant police harassment and social discrimination in the 1960s. While this was not the first of the protests by gay groups, it was the first time that everyone – lesbians, gays, and transgender people – came together to fight for a common cause.
The Stonewell riots are thus seen as a watershed moment in the fight for equal right and end of discrimination by the LGBTQ+ community.
What happened after the Stonewall Inn riots?
Thom Higgins coined the term "gay pride" in 1969 post the riots. A year later, thousands marched in the streets demanding LGBTQ+ rights in what was called the Christopher Street Liberation Day March.

The parades that happened in June subsequent years after the riot on its anniversaries led to the tradition of celebrating the month of June as "Pride Month" every year.
The pride month in the US gained Presidential Proclamations twice, in 1999 and then in 2015. The incumbent US Vice President Kamala Harris became the first sitting VPOTUS to attend a pride parade in office.

The month is designed to honour LGBT people, campaigners, and supporters who have had a significant effect on history in the United States and across the world.
But, it's older than that…
It would be however wrong to say that this was the first of struggles. In 1966, at Compton's Cafeteria in San Francisco, a riot started after a police officer threw coffee at the face of a drag queen.

The first documented gay rights organisation, "Society for Human Rights", was founded in 1924 by Henry Geber, a German Immigrant in the US who published newsletters called "Friendship and Freedom." In 1925, police forced the group to disband. In 2015, Geber's house in Chicago gained recognition as a National Historic Landmark by the US government.
The first pride flag was introduced in 1978 at the San Francisco Pride parade. It was designed by artist Gilbert Baker. The flag has eight colours – sexuality symbolized by hot pink, life by red, healing by orange, the Sun by yellow, nature by green, art by blue, harmony by indigo, and spirit by violet. It has been adopted worldwide.

In 1979, a six-colour flag, which is in common use today, appeared with red, orange, yellow, green, blue (harmony replaced art as symbolized by blue in the flag), and purple/violet, essentially due to the unavailability of some fabric colours.
The history of pride in India, however, has been a rocky road. Same-sex marriage is still illegal in India. In the US, it has been legal since 2015, and Denmark was the first country to legalise it back in 1989.
Homosexuality was decriminalised in a landmark judgment by Indian Supreme Court in 2018. The court also said that India owed its LGBTQIA+ community an apology for the systemic oppression that they have faced since time immemorial. It is still a taboo in the majority of India. The first gay rights protest in India happened on August 11, 1992. The first Pride parade in India took place in Kolkata on July 2, 1999, called the Kolkata Rainbow Pride Walk. 15 people attended it.

The first one in the northeast happened in Guwahati, Assam, in 2014. Today, Pride Parades are held in over 21 Indian cities annually. But, in terms of de-stigmatisation of the community, and provision of equal rights for them, India still has a long way to go. The LGBTQ community and supporters have been working for equal rights to establish families, marry, adopt children, combat discrimination and hate speech, and just exist as they are. This month is all about promoting acceptance, pride, history, and, most importantly, love.
---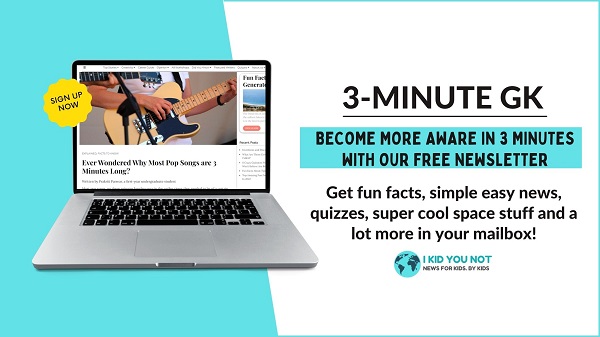 Better Your Child's G.K. In 3 Minutes – Get This Free Newsletter
Get fun facts, simple and easy news, quizzes, and lots of other interesting things to read in your mailbox – for free! It's what we call GK-on-the-go!
I Kid You Not now has a large readership across India and also parts of the world. If you want to write for us, you can submit your story here. You can also apply to become a news anchor. Apply here