The Oldest Tree in the World
Written by Sthitee Mohanty, senior writer A banyan tree in a small town called Narora, in the district of Bulandshahr,…
---
Written by Sthitee Mohanty, senior writer
A banyan tree in a small town called Narora, in the district of Bulandshahr, in the state of Uttar Pradesh, India has been recently selected as the oldest tree in the world.
This tree is approximately 8 km from the Narora Power Plant in Bulandshahr, Uttar Pradesh (UP). A scientific team with members from the Botanical Survey of India, Babe-Bolyai University in Romania, and a laboratory in Johannesburg, South Africa, have verified this discovery.
But how do you find out a tree's age?
There are many methods, some of them right below for you to check out:
Carbon dating – extracting carbon from the living organism and checking how old it is through fixed calculations using the carbon concentration
Dendrochronology/tree-ring dating – the tree trunk's growth rings are counted to gauge how old it is
Measuring the tree trunk's thickness – a series of calculations are done using the tree trunk's radius and circumference
In this situation, the banyan tree was found to be 450-500 years by carbon rating. It is now older than the banyan tree in the Acharya Jagadish Chandra Bose Indian Botanic Garden near Kolkata.
What are banyan trees?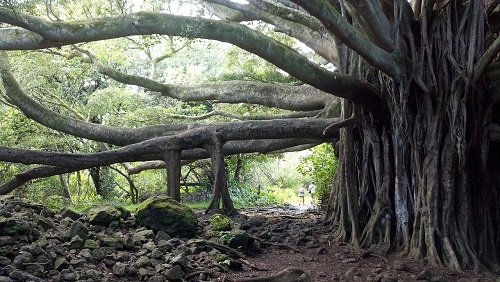 Banyan trees come from the same genus as fig trees, though their fruits are certainly not as tasty as figs. The Ficus benghalensis is colloquially known as the banyan, specifically the Indian banyan. These trees can be identified from adventitious roots coming out of their branches that support the canopy of the main trunk – these roots are thus called prop roots!
It is commonly believed that the older the banyan, the more prop roots it has. Surprisingly, this Narora banyan has only four prop roots that support the entire tree!
What does adventitious mean?
External/originating from an uncommon part of the plant
Adventitious roots mean that the plant has root-like structures coming out from its shoot parts
Other adventitious roots are present in plants like grass and cypress!
Did you know that India also has the world's largest banyan tree? The Thimmamma Marrimanu in Andhra Pradesh covers an area of 19,107 square meters.
Here are some more notable banyan trees of India
| | | |
| --- | --- | --- |
| Name/Location | State of India located in | Notable feature |
| Adayar Banyan Tree, Chennai | Tamil Nadu | Second largest banyan tree in India, believed to be 450 years old |
| Kalpa Vruksha, Puri | Odisha | Believed to be 500 years old and in Jagannath Temple premises |
| The Dodda Alada Mara (Big Banyan Tree), Bangalore | Karnataka | Covering 3 acres and believed to be 400 years old |
| The Great Banyan, Kolkata | West Bengal | Believed to be 250 years old with an unusually large number of prop roots |
Why are banyan trees important in India?
Banyan trees have always held a prominent place in the religions of India.
Buddhism has many tales of Lord Buddha attaining enlightenment underneath a banyan tree whereas some Christian myths place the banyan tree at the center of the Garden of Eden.
For Hinduism, the banyan tree is curiously associated with both death and immortality.
Many Hindus worship these trees believed to be connected to Lord Yama, the Hindu god of death. Many of them believe the banyan to be the home of mischievous spirits and ghosts. Due to its long life capacity, no Hindu wedding rituals use parts of the tree.
Do you want to know more about banyan trees? Read on to know more fun facts about the banyan tree!
Ten fun facts about the banyan tree
Some Indians call the banyan tree a vata-vriksha, a Sanskrit word that means the Tree of Life.
Do you know how this tree came to be known as the banyan? The British observed the local baniyas taking a respite from the afternoon heat under these trees, and hence dubbed them banyan trees! Baniyas are an old trading community in India.
Did you know that banyans can be made into bonsai trees too? The oldest banyan tree is located in Taiwan, almost 240 years old!
An opinion column in The Economist is called "Banyan." It carries content regarding Asia
The banyan is the national tree of India.
It's not just India where banyans are popular – Indonesia has the tree in its national emblem!
There was even a computer operating system named "Banyan VINES." The massive network branches were thought to be similar to the prop roots of these trees.
Did you know that the city of Vadodara in Gujarat is named after the banyan tree? The word vad means banyan tree in the local dialect, and the trees were once found abundantly in that city.
The banyan tree is a strangler fig! As an epiphyte, it starts life on a host tree before growing large enough to kill the host. It continues to increase in size by putting down numerous prop roots.
Did you know that in the animated series, Avatar the Last Airbender, a single banyan tree forms an enormous spooky swamp setting?
Weren't those facts fun to read?
But are all old trees of the world banyan trees? Certainly not!
Here's a list of some old trees around the world

| | | | |
| --- | --- | --- | --- |
| Name | Species | Age | Location |
| Kayano Osugi | Cryptomeria (Sugi) Tree | 2300 years old | Kaga, Ishikawa Prefecture, Japan |
| Jaya Shri Maha Bodhi | Sacred Fig Tree | 2305 years old | Mahamewna Gardens, Anuradhapura, Sri Lanka |
| General Sherman | Giant Sequoia Tree | 2200-2700 years old | Giant Forest of Sequoia National Park, California, U.S.A. |
| Methuselah | Great Basin Bristlecone Pine Tree | 4789 years old | Ancient Bristlecone Pine Forest, California, U.S.A. |
| Old Tjikko | Norway Spruce Tree | 9561 years old (this is the age of its root system.) | Fulufjället National Park, Dalarna, Sweden |
These old old trees must have some pretty amazing stories to tell! What do you think?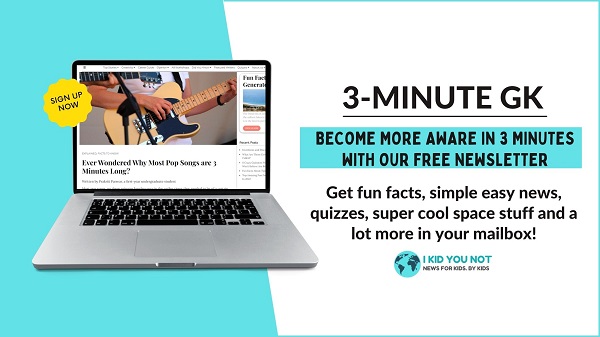 Better Your Child's G.K. In 3 Minutes – Get This Free Newsletter
Get fun facts, simple and easy news, quizzes, and lots of other interesting things to read in your mailbox – for free! It's what we call GK-on-the-go!
I Kid You Not now has a large readership across India and also parts of the world. If you want to write for us, you can submit your story here. You can also apply to become a news anchor. Apply here