The Plane Crash At Kozhikode in Kerala – What Happened?
Written by Agastya Sharma, a grade 6 student (junior editor I Kid You Not). The coronavirus had stopped all international…
---
Written by Agastya Sharma, a grade 6 student (junior editor I Kid You Not).
The coronavirus had stopped all international flights and even domestic ones. Now that they have started, mishaps are still happening. Such is the tale of Air India Express Flight 1344 from Dubai.
What happened?
The Air India Flight, 1344 from Dubai to Kozikode (in the state of Kerala) that was carrying 190 people crashed while landing. The people were being evacuated from Dubai because of coronavirus. There was heavy rain and the pilot tried to land twice. On the second attempt, the aircraft overshot the tabletop runway and fell into a valley 35 feet below. It broke into two, killing at least 18 people and seriously injuring more than 150. Both pilots died in this accident.
Who were the pilots?
Captain Deepak Vasant Sathe, a decorated Indian Air Force pilot, was piloting the plane that fateful day. At 7.40 in the evening, Flight 1344 landed not on the runway, but in a ravine. Captain Sathe, was very experienced and saved nearly 170 people by turning the engine off – had he not done that the aircraft would have caught fire and a lot more people would have died. All the injured have been admitted to nearby hospitals. The fire brigade and health services appeared at the site very speedily. The co-pilot, Akhilesh Kumar, was also found dead. The black box, or a flight data recorder (which recorded all things like the passenger manifest, pilot conversations with the Air Traffic Control) was recovered recently.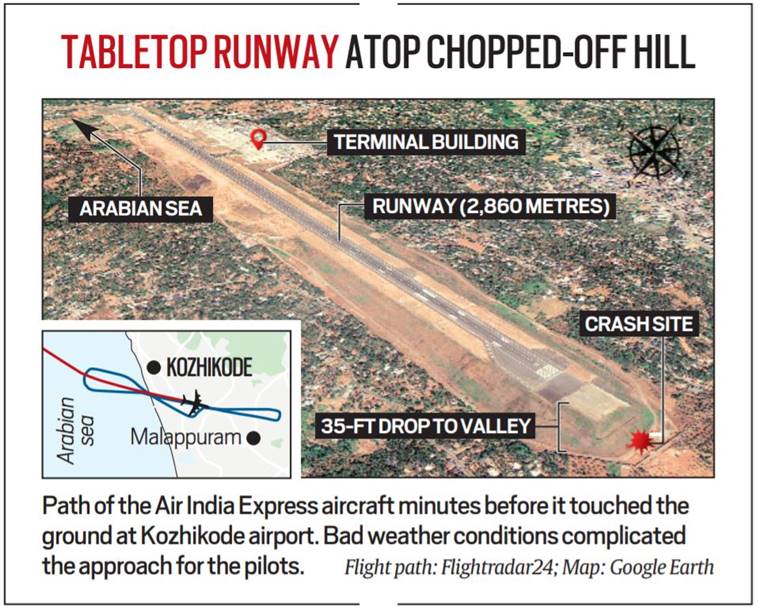 What are tabletop runways?
Tabletop runways are usually built by slicing off the top of a hill. They are considered tricky for landings because there is little room for overshooting – there are ditches on either sides. And this is what happened in the case of the Air India flight too – because of bad weather the aircraft overshot the runway and fell into a ditch.
There have been other crashes on tabletop runways before.
In 2010, an Air India Express plane (like this one) also overshot the runway at Mangaluru tabletop airport in Karnataka. It went into a valley and burst into flames, killing 158 people. Then in 2019, another Air India Express flight (again from Dubai) skidded off the runway at Mangaluru. Fortunately, it did not crash because it stopped in soft ground.
Many pilots say that landing on tabletop runways is not easy and a small mistake can be disastrous. After the Mangaluru crash in 2010, the Directorate General of Civil Aviation (DGCA) – an organization that investigates aviation accidents – had banned wide-bodied aircraft from landing at Kozhikode airport.
Our prayers lay with all those injured and with those who have lost their loved ones.