Facts and History of the Mallakhamba Game
Written by Manya Pandey, a first-year undergraduate student.
Mallakhamba or Mallakhamb is an authentic Indian sport that looks like aerial yoga for the most part. To those who don't know about this sport, it may seem like just stunts over a pole or rope…
---
Written by Manya Pandey, a first-year undergraduate student.
What is Mallakhamba?
Mallakhamba or Mallakhamb is an authentic Indian sport that looks like aerial yoga for the most part. To those who don't know about this sport, it may seem like just stunts over a pole or rope, but in truth what you see now is the modern derivative of traditional Indian martial arts that were used to train warriors, including Rani Rani Laxmi Bai.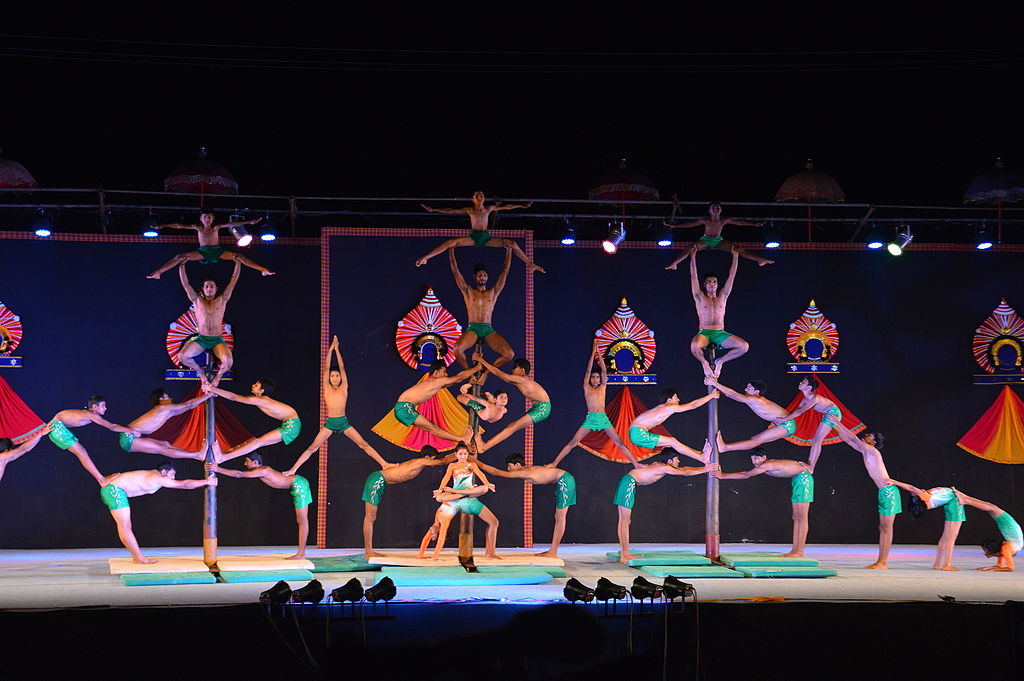 Let's break it down
Malla means wrestling and Khamb literally translates to "pole". Put it together, Mallakhamb means wrestling on the pole, which is essentially what it is except in ancient times, soldiers and warriors used the pole to perfect their defence moves against an opponent in the ring or the battlefield. Back then it was not just a stage show, that it has become now. So let's find out more about the history of Mallakhamba sport.
What is the history of the Mallakhamba art form?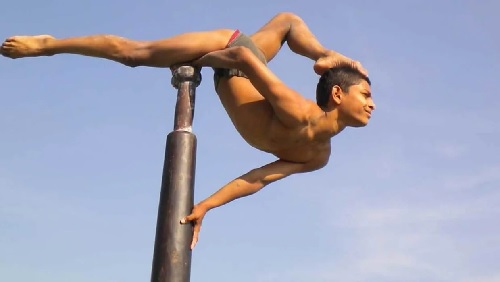 Documentation was not as easy in the olden days so most of the Indian arts and sports including yoga, kabaddi, and Mallakhamb were just passed on from masters(gurus) to their disciples (shishya). In Fact, that was probably the only to pass down these techniques.
The earliest mention of Mallakhamb can be traced back to the  2,300 years old archaeological site of Chandraketugarh in Kolkata, India. The site has carvings depicting some of the popular positions in the Mallakhamb game and the earliest written records can be found in Sanskrit classic literature called Manasollasa, written by king-Someshvara III, his work dates back to around the 1135 Christ Era. 
A short history of Mallakhamba can also be found through Rajput paintings which show people doing acrobatics and pole climbing while grooving to the classical Indian music, precisely known as Raga Desahkar( Raag refers to a tune), Mughal paintings also reflect upon athletes and wrestlers who practised weightlifting and pole climbing quite similar to Mallakhamb sports.
A short history of Mallakhamba
Some bits and stories about the short history of Mallakhamba can also be found in the travel journals of a Chinese Buddhist pilgrim, Xuanzhang, who travelled to the land of India around the 7th century BC (Before Christ). He observed some Hindu sanyasis in Prayagraj( currently in Uttar Pradesh) performing a kind of solar rite wherein they watched the sunset while clinging to a vertical pole with just one hand and one foot and keeping the rest of their body suspended in the air.
That easily is among the most bizarre Facts About Mallakhamba. If you think about it, the sport might have evolved from the moves and manoeuvres of our ancestors and their ancestors: the Apes.
The modern history of Mallakhamba
The art form is now practised as a competitive sport. Mallakhamb made its first national-level appearance in 1958 at the National Gymnastics Championships (NGCs) which were held at the Paharganj Stadium in Delhi, India. After this, the game managed to catch the eye of the Gymnastics Federation of India (GFI) and they proposed to include it in further competitions under their umbrella organisation, National Gymnastics Championships(NGCs).  
That set Mallakhamb on a roll, in 1962 first ever National Mallakhamb championships were held at Gwalior, Madhya Pradesh as part of the NGCs and by -1968 the games were being played in All-India Inter-University Gymnastics Championships.
1981 was a significant year in the history of Mallakhamba
In 1977, this traditional Indian sport was removed from the Gymnastics Federation of India (GFI). The game remained dormant until 1980 when Bamshankar Joshi and a few more Mallakhamb enthusiasts at Ujjain, Madhya Pradesh founded a pan-India organisation named the Mallakhamb Federation of India -.

The newly established association developed the modern form of the game and organised National level Mallakhamb championships for 2 days from 28 to 29 January 1981, at Ujjain, Madhya Pradesh. In fact, the official rules and regulations were introduced for the first time in the same championship, which marked another key event in the history of Mallakhamba. 
About the founder of Mallakhamba
Balambhatta Dada Deodhar is popularly titled the founder of Mallakhamba within the nation. He is the teacher(guru) of Peshwa Baji Rao II, the last king of the great Maratha dynasty. Not just the king but freedom fighter Rani Laxmi Bai along with her companions Nana Saheb and Tantia Tope learned Mallakhamb because the sport increases agility and improves reflex and combative strength. Balambhatta Dada Deodhar, the progenitor himself, was an excellent wrestler and gymnast.
Where does Mallakhamba stand now?
Mallakhamb took to the international stage in 1936 during the Summer Olympics held in Berlin (as did other Indian sports like Kabaddi and Kho Kho). This demonstration was held by members of a physical education institute located in Amravati city in Maharashtra, called Hanuman Vyayam Prasarak Mandal (HVPM). They are a little-known institute but clearly big-time Mallakhamb enthusiasts.
Next in order was the 2018 Festival held before the 2018 Commonwealth Games in Gold Coast, Australia. The sport was also set to appear at the opening ceremony of the Tokyo 2020 Olympics but it eventually got cancelled due to the COVID-19 pandemic. Notably, Mallakhamb has become a part of the Khelo India Youth Games since 2022.
Here's a list of some International organisations of Mallakhamb
Vishwa Mallakhamb Federation (VMF)
Mallakhamb Confederation of World (MCW)
Asian Mallakhamb Federation (AMF)
South Asian Mallakhamb Federation (SAMF)
How to play Mallakhamba?
The rules of the game are quite simple but first, let's get to the crux of the game.
The game currently has 3 different variations namely Pole Mallakhamb, Hanging Mallakhamb, and Rope Mallakhamb.  As the name suggests, pole variations are done on a vertical pole which is about 8.5 feet (2.6 meters) tall and 55 cm wide. The pole is exclusively made of sheesham or teak wood
(hardwood trees found in India).
The Hanging Mallakhamb is also performed on a pole but on a smaller one that's hung from a hook. The stout pole is hooked using chains at some distance from the ground.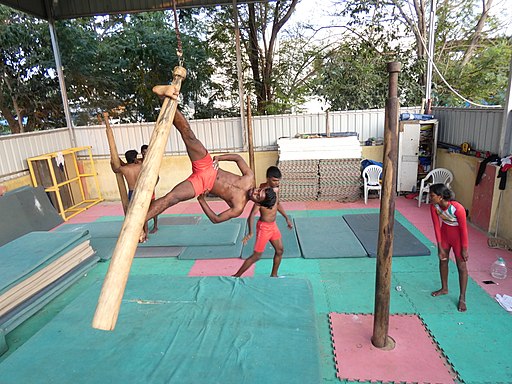 The sport is practised by both men and women but as per the general trend, Pole Mallakhamb is more commonly practised by men and boys while ladies shine more at Rope Mallakhamb. In fact, Himani Uttam Parab won Gold in Rope Long set in the first World Mallakhamb Championship held in 2019.
Now let's see how to play Mallakhamba.
It's simple all you have to do is perform acrobatic stunts with a pole or rope or both and you're scored based on your mastery of the skills and techniques. Basically, it requires a lot of practice, stamina, and agility.
But there are certain criteria over which the -competitors are mainly judged.
These five categories are
Mounting – when the performers jump on and climb up the pole
Acrobatics – wherein performers display acrobatic moves and flip on the pole
Catches – when participants reattach themselves to the pole after displaying airborne stunts.
Balances – wherein competitors showcase their balancing abilities on the pole
Dismounts – when participants gracefully get off the pole
It goes without saying that the participant with a maximum number of points wins. Basically, your movements ought to be very clean and smooth throughout the performance. That was all about how to play Mallakhamba, next up are some interesting facts about the game.
Facts About Mallakhamba
1. Castor oil is applied to the player and the pole
The pole and players have to be oiled up before each performance because there is continuous sliding over the pole during a performance, -castor oil makes the surface smooth and reduces friction. This safeguards skin and ensures the players can display their peak-level skills.
But why only castor oil?
Castor -oil has a high -viscosity which means it doesn't slip off the pole that easily. Also, it seems to have to be resistant to fungal and -microbial contamination.
2. In the olden days, the Rope Mallakhamb was performed on a cane
A cane is a tall and flexible kind of wood plant. Traditionally it was used in the Rope Mallakhamb (probably in aerial exercises) but this practice changed due to the unavailability of good quality cane. So later, the use of a cotton rope came into play. The participants are expected to be able to showcase various exercises without putting any knots in the rope.
Some quick facts about Mallakhamba
Only sheesham or teak wood is used in making Mallakhamb pole
A lot of positions in rope Mallakhamb are similar to meditative asanas
Mallakhamb is one of the oldest and hardest native Indian sports.
We hope the legacy continues. Love sports, read this great one on
Facts about Kho Kho
Did you know that you can write for I Kid You Not? We have a large readership across India and also parts of the world. If you want to write for us, you can submit your story here. You can also apply to become a news anchor. Apply here
Better Your Child's G.K. In 3 Minutes – Get This Free Newsletter
Get fun facts, simple and easy news, quizzes, and lots of other interesting things to read in your mailbox – for free! It's what we call GK-on-the-go!
Sign up for our free newsletter here