Kehwa With Krishna Episode-2. Interview With Irfaan Bukhari
Written and interviewed by Krishna Saproo, a grade 12 student. This is part of a series called Kehwa with Krishna. Here is episode 2 – an interview with Irfaan Bukhari
---
Written and interviewed by Krishna Saproo, a grade 12 student. This is part of a series called Kehwa with Krishna. Here is episode 2 – an interview with Irfaan Bukhari (you can catch episode 1 here)

"When I hear music, I fear no danger. I am invulnerable. I see no foe. I am related to the earliest times, and to the latest."― Henry David Thoreau

The essence of life is music. There is a melody in anything that has a beat. Our breathing has a rhythm as well. Music exists in every human being and living creature. Music has the potential to elicit a wide range of emotions in listeners. Music may also be a highly effective way to connect with God. We might infer that music is the purest form of devotion and connection with our spirit.
According to a first-of-its-kind study, music from diverse languages and ethnic groups throughout the world exhibits comparable behavioural patterns, implying that human civilization everywhere is constructed from basic psychological building blocks.
Introducing, our guest for today – Mr. Irfaan Bukhari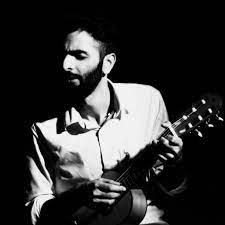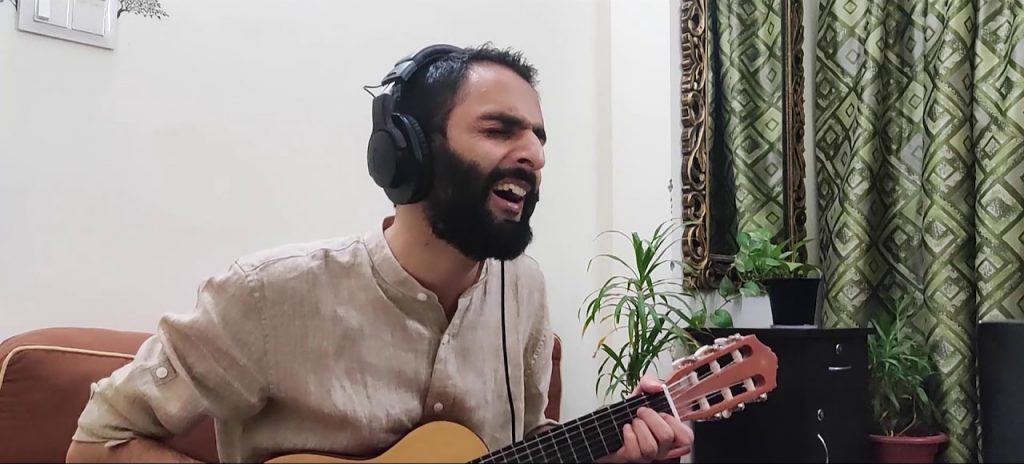 Irfaan is a singer-songwriter based out of Kashmir. He writes his songs in Urdu and Kashmiri. He also enjoys recomposing age-old classic ballads from Kashmiri tradition in a fresh, contemporary tone. One such example is his popular single 'Janaan,' which was published on Zee Music and included great folk musician Noor Mohammad.
His compositions are typically adorned with gentle and breezy Ukulele/Guitalele sounds. Irfaan, a creative producer and director by trade, enjoys spending his leisure time making new original music. Since 2019, he has released six tracks and is now working on an unnamed EP that will be published in 2022. He is commonly referred to as "Janaan Boy."Janaan, Tamanna, Duur, Qaza, and Raah Bakshtam are some of his well-known compositions/tracks. He is also a filmmaker/Creative Producer/Director in addition to being a singer/songwriter.
He has directed a number of commercials, all of which contain a social message. Many times, these commercials also connect with people on an emotional level.
Here's a conversation with him

KS: What first got you into music?
IB: Honestly, I don't remember the beginning. I think because I have always been an introvert with a heart that wants to speak sometimes, music came to my rescue. It became a convenient route of my expression. I've been writing music without thinking about its relevance and how listeners would react to it. It's sort of very personal to me just like a personal diary recording thoughts that cross my mind or what I feel at a particular moment in life.

KS: What is your creative process like?
IB: For me, the process is very unpredictable. It purely depends upon my mood. I can't write a song or compose at will. It only comes to me when I strongly feel for something. A particular mood or emotion that I carry triggers a thought, a melody, and a piece of lyric. It of course then takes a lot of experimentation when I shape it into a song. At times, it takes me several weeks to revise my work until I feel convinced with it and only then do I put the song in production.

KS: Is there another musician you've mentored or trained? Describe what you've done to help them.
IB: I don't think I'm in a position to mentor/train any other musician. Even if I tried, my process of music is so unpredictable that it would be a mess to put it in any form or pattern. However, in my own small fraternity, I always advise budding artists to aim at creating original work. Original work may take a lot of effort and time to create a name for you, and it may have a limited audience even at the peak of your career but being recognised by your own music is a pleasure that nothing else will ever give you.

KS: Did you have a particular artist that inspired you to take the path of a music career?
IB: There isn't one particular musician that I draw inspiration from but many like Gustavo Santaolalla, Eddie Vedder, Bayaan, Mooroo, Ankur Tewari, Dhruv Visvanath among various others. I also listen to music across genres, and somehow I'm inspired either musically or lyrically. Artists like Shamoon Ismail, Young Stunners, God is an Astronaut, Faris Shafi, Dharia, Billie Eilish, Younger Brother, Serhat Durmus, Mohsen Namjoo, and Sami Yusuf are surely some among them.

KS: What's your process for dealing with performance anxiety?
IB: I'm fully conscious about the fact that my anxiety only stays till I start singing. Once I'm into it, my eyes are automatically shut and I feel transported. So, the thought that it'll vanish as soon as I start singing is what keeps me from literally freezing on stage otherwise.

KS: What does music mean to you?
IB: I think music has always been a means of catharsis for me. It's been the reason and it still is the only reason I make music.

KS: How did you learn to sing/ to write/ to play? What was the first instrument which you learned to play?
IB: I've had a long history of singing. It started at an early age in school when I was around 10 years old. When I landed in college, I became part of some bands and that's when I learned about the role of instruments. Eventually, I started learning piano, guitar, and some other instruments from various YouTube tutorials. I finally stopped at Guitalele. I think it compliments my ideas and style of music more than any other instrument.

KS: Do you have any hobbies or interests outside of music?
IB: Music is my only hobby while professionally I am a creative producer and director. So, if I'm not at work, I'm perhaps playing music in some corner and vice versa!

KS: Who would you most like to collaborate with?
IB: I'm not so fond of collaborations because I feel I'm a little rigid with my taste. I genuinely feel collaborations are very tough to execute. Putting out a genuine mix of two artists is something I find very challenging.
KS:How would you describe the music that you typically create?
IB: Was this different or more challenging and if so, how? I produce my music in the most DIY way like most indie musicians. It requires you to do everything on your own. You need to write, compose, play instruments and do the audio production yourself. Also, since I'm not a full-time musician, for my convenience at least it's very essential that I know how to practically create and record a song. As long as I have these skills I can juggle my professional work and work of passion conveniently.

KS: We have some silly questions that we received from one of our big fans and that's me obviously (laughing) Do you sing in the shower? What songs?
IB: Honestly, my voice sounds terrible in bathroom ambience so I'm actually not so fond of singing in the bathroom. Guess I can't impress myself in that space!

KS: Tell us something about your latest single, "Parwana"?
What sparked the idea for "Parwana"?
IB:Parwana was something I had written a long time back. The idea was very simple, the very known relationship of Parwana and Shamma. How one of them loses itself in the chase and fascination of the other. In my recent visit to Dubai, I was with my wife on a yacht crossing Marina at midnight. All I could see was this bright shiny city on both sides and us in the middle of the water, making rounds with an absolute fascination. I felt exactly what I had felt while writing Parwana. I was sure that my song had a perfect video at this moment. Everything was spontaneous, I had the yacht captain make another similar round and I spoiled my wife's chill by making her cinematographer that night. She was kind enough to shoot the whole video on her iPhone which was losing both, battery and as well as memory 😀

Thank you for your time. It was nice talking to you. Adios! Drink Kehwa and Stay Safe!
This was Krishna Saproo in conversation with Irfaan Bukhari
I Kid You Not now has a large readership across India and also parts of the world. If you want to write for us, you can submit your story here. You can also apply to become a news anchor. Apply here