Sustainability in Football
Written by Madhav Bahl, a grade 10 student
How much does a World Cup cost the Earth in terms of emissions?
---
Written by Madhav Bahl, a grade 10 student

Sustainability is the ability to use our resources in ways that do not comprise the availability for future generations. It is basically the process of keeping all our resources at a similar level so that they can be used by future generations. 
As we have started seeing the effects of global warming we have shifted our focus to sustainability. This has led to various different rules being made to control carbon emissions and non-renewable waste.
Carbon emissions/footprint are the productions of CO2 and other greenhouse gases due to various human activities.
Sustainability in sports
Sports events cause a lot of waste to be produced – by people flying in for events, fans eating and littering, and various other reasons. To reduce carbon emissions new sports have been introduced like Formula E as alternatives. However, for sports like football, there aren't really many rules you can change.
Sustainability in football
Football is the most popular sport in the world.
Did you know that 0.3 to 0.4 percent of the total carbon footprint is caused by football? That means football, on its own, produces 0.3 to 0.4 percent of 37.12 billion metric tonnes which is equivalent to approximately one billion 1,484,800,000 metric tonnes!
As people become more aware of climate change and sustainability, various sectors responsible for carbon emissions, like football naturally came under the radar.
It is estimated that 60 -70 percent of the Carbon footprint was due to travel (to football events). The other 30 per cent comes due to food and drinks for fans, merchandise stores etc.
To minimize the emissions measures like solar panels and water-reusing machines have been applied to various football stadiums. These have had positive effects, but more needs to be done.
Big footballing events
Football has a world cup every 4 years and continental clubs at regular intervals on the national team level. Club football also has yearly competitions like the Champions League, Europa League, and the new Conference League in Europe, as well as 2-3 competitions in other continents. These require a lot of travelling and have a huge fan base and hence lead to high amounts of carbon emissions.
For the 2018 World Cup, the total emissions were 2,167,118 tCO2e which is around 5 percent of the total carbon emissions in that year. Out of this 57 percent was caused due to international travel, 15 percent due to inter-city travel and 12 percent due to accommodations for people and staff.
The 2022 World Cup in Qatar was supposed to be more eco-friendly than the one in 2018. But, even with 30 percent more energy-efficient stadiums, and water vapour recyclers for the grass, they still produced more carbon footprint than the 2018 World Cup. Their total emissions were 3,631,034 tCO2e out of which 1.8 billion was from travelling and 728 million was from the accommodation. This number was higher as Qatar had to build infrastructure to host the world cup as well.
With the next World Cup having 16 more teams with their fan bases as well, the question is how many more World Cups will our Earth be able to take?
---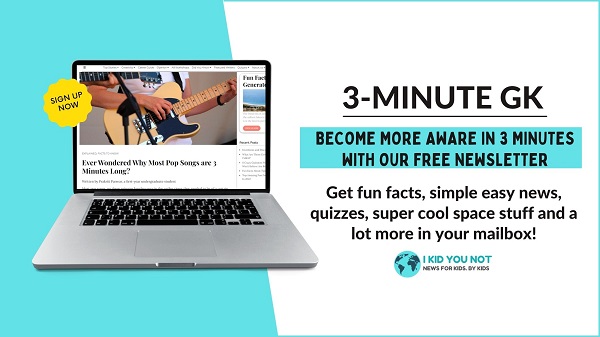 Better Your Child's G.K. In 3 Minutes – Get This Free Newsletter
Get fun facts, simple and easy news, quizzes, and lots of other interesting things to read in your mailbox – for free! It's what we call GK-on-the-go!
I Kid You Not now has a large readership across India and also parts of the world. If you want to write for us, you can submit your story here. You can also apply to become a news anchor. Apply here