Kehwa With Krishna Episode-3. Interview With Akhil Artist
Written and interviewed by Krishna Saproo, a grade 12 student. This is part of a series called Kehwa with Krishna. Here is episode 3 – an interview with
---
Written and interviewed by Krishna Saproo, a grade 12 student. This is part of a series called Kehwa with Krishna. Here is episode 3 – an interview with Akhil Artist

"Music is the one method of expression that can never be limited but can only triumph in love and life as a whole." Akhil Artist
Introducing, our guest for today – Mr. Akhil Sharma
Akhil Sharma, from Jammu and Kashmir, is an ambitious Indian songwriter, music composer/producer, lyricist, and singer. He goes by the moniker Akhil Artist.
About Akhil

Since he was a child, Akhil has had a love and passion for music, and he began his music lessons at home at a very young age. In the year 2012, he began his musical career. He has played a variety of instruments, including the piano, flute, drums, harmonium, and guitar, which he prefers.
He is also passionate about beatboxing and finger drumming. He mixes and masters his recordings in addition to music production and composition.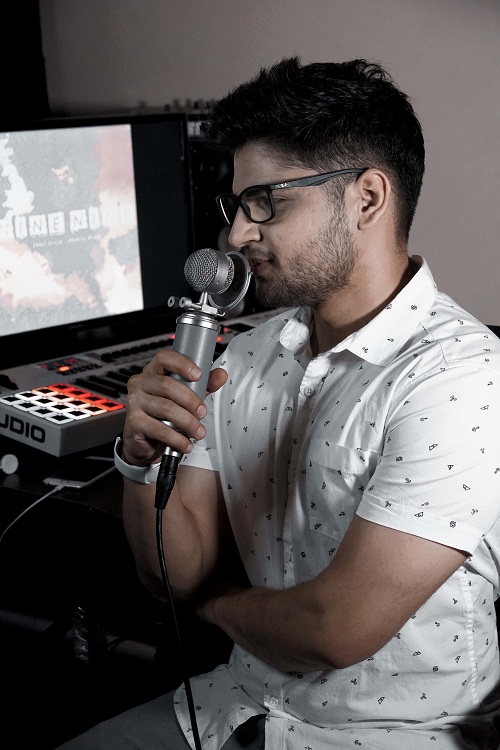 He has also received certifications from Zee Media Institute in filmmaking and direction, as well as from Google in data analytics. He has recorded and released a number of singles, including Lost Our Love, Tera Intezaaar, and others. He has also sung in English, Punjabi, Dogri, and Spanish, in addition to Hindi.
In March of 2021, he published "Nine Nine," a collection of 14 songs about mental health issues with artists from all across the world.
Akhil is now signed to the BELIEVE Music label/distribution in France.
Recently, he released his Music – Parra, which is available almost on every music streaming platform.
Here's a conversation with him: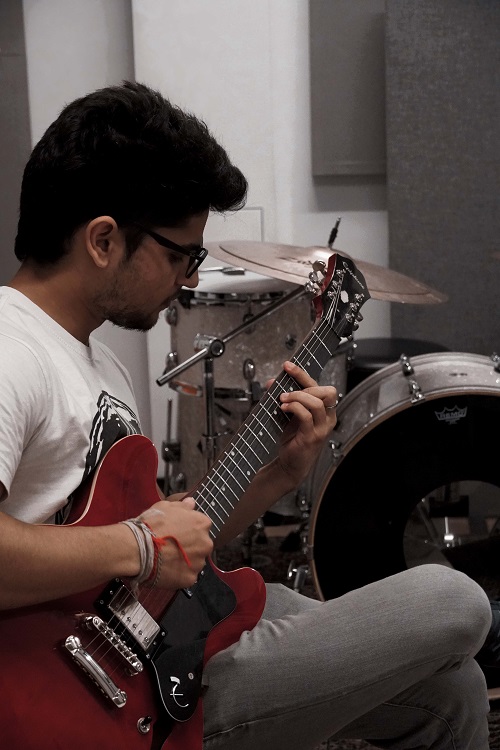 KS: What sparked your interest in music in the first place?

Akhil: It was back when I was a child maybe when I didn't even go to school my father got me a guitar toy. I was so fascinated by that and I really enjoyed playing it. Eventually I got more inclined towards playing different instruments and thought of making music on my own one day. And that's how it all started.
KS: What made you decide to pursue a career in entertainment?
Akhil: Working in the entertainment Industry can be a great career choice for the right person. It is a very demanding industry with numerous responsibilities, and the work requires a high level of creativity, drive, and ambition. I knew that I was good enough to opt for music so I didn't step back and chose to pursue it.
KS: What kind of singer would you classify yourself as?
Akhil: I'm a singer who would want to try singing in various languages, try different genres and music forms. I'm more into electronic music but at the same time I can can sing from Rock to Romantic, any genre as i have particular voice texture for different kind of genre.
KS: What has been the best performance of your career so far?
Akhil: I gave many performances which I've loved. Even I gave a performance at an event at Microsoft, Hoxton Square which is very close to my heart. But personally I feel my best performance is yet to come.
KS: Which instrument is your favorite to play and why?

Akhil: I love playing guitar. It was the first instrument I learnt playing. Also, being a songwriter I believe that guitar is the most useful tool to work for me. I find that a guitar is like a self-contained orchestra all on its own. Since a great deal of music is guitar-based, you can get a very clear idea of how the finished piece of music will sound. I even encourage vocalists who don't play guitar in their bands to pick up the instrument so they have a better idea of how their lyrics can fit together with the music.
KS: What is it about music that makes you feel passionate?
Akhil: One amazing thing about music is that it belongs to you as much as it belongs to the artist. Another beautiful thing about music is that it can make us feel certain emotions. I feel performing for others is an incredible feeling. That's what makes me passionate about music.
KS: Do you have any hobbies or interests outside of music?

Akhil: Yes Ofcourse. I love playing games. I love GTA series. Whenever I don't make music I play games. It's only the two of it on the system. If I consider for outdoor activities I like doing skating and playing badminton. Also, I'm a foodie and I love trying different types of foods.
KS: Recently your song Nine Nine in collaboration with Akshita Mengi, was released. What was it like creating this collection? Did anything surprise you about the overall process? Any unexpected challenges?

Akhil: Nine Nine is one of my most challenging album's I've ever released. I wanted it to be very much motivating for anyone who listens to it. I had to manage so many recording sessions and managing it. It involved the work of many artists which was challenging as well as fun at the same time.
KS: I saw you are a promoter of Mental Health Awareness and I also saw your podcast on Mental Health Awareness. Do you feel that your music can help to bring a Mental Health Revolution?

Akhil: Music is a very vast field. It requires patience and hard work. You cannot earn fame and be on the top overnight. It might lead you into thoughts that "why i chose this ?" It can make you depressed when your work isn't getting recognised inspite of your utmost hardships. I'm glad to have had come out of the same issues. It requires courage to restart from the scratch. I'm happy and I feel proud because I want to be a voice for all the youngsters who are into such a profession. I want to make them believe that it's absolutely okay to face it. If I can achieve it back surely anyone can.
KS: Let's talk about your brand new music, "Parra". What was the idea behind this name? How was your overall experience while creating Parra?

Akhil: It was about the time when I had been to Goa. Since a couple of days before the trip I wanted to shoot for a music track which I had made and decided to release but wasn't sure about how the music video would be. While traveling I came across a small village named PARRA. It was so beautiful and refreshing. Also, while meeting some people they were so much welcoming to me. I loved being there. So I decided to shoot with the help of a friend. And when I did I exactly knew that it was perfect for my music track and hence, the title of my track.
KS: What's the story behind your stage name?

Akhil: When I was in school I'd won a painting competition. My teacher while prize distribution appreciated me and said AKHIL ARTIST. After hearings I decided I'll keep this name when I get old. And that's how everyone knows me now.
KS: What musicians do you admire most and why?

Akhil: I'm very much fond of listening to Greenday. They have catchy songs. Most of their songs are simple enough to sing along to and play. People like music that they can tap their foot to, nod their head to, jump around to. It's fun. Not many bands can say that they've been consistently producing new music for 30 years straight. Green Day has changed some over the years. They have adapted well to the times. They've picked up new fans with each major release. And now, they have a ton of young fans, who weren't even alive when their first 6 albums came out. So I guess they just appeal to a wide range of people.
KS: Did your style evolve since the beginning of your career?
Akhil: I consider my self always a student no matter how old I become. I honestly believe I've learnt so much in every sphere of my life since I got into music. Be it people I meet, music I listen to, different genres and everything that relates to music has taught me a lot and a lot. Because I feel "The more you learn, the better you become".
KS: How did you learn to sing/write/to play?

Akhil: Ever since my childhood when my mother used to humm songs I'd be very fascinated in learning songs. I used to sing and play guitar in my school band. When i used to sing I often thought of writing my own songs which all would be singing one day.
KS: Which qualities do you think make a great musician?

Akhil: I believe a musician should be well versed with his work and creative in anything his opts for. He should be patient enough to manage his work to take into next level. Confidence and hard work should be in his blood.
KS: What's the best piece of advice another musician ever gave you?

Akhil: I remember meeting a musician at Mumbai. He said something which is imprinted in my brain for the rest of my life now. He told me that being a musician you should work hard on your techniques and set yourself goals. Have patience. Move out of your comfort zone as often as possible. Don't take your frustrations out on your instrument! Keep calm and carry on practising always.
KS: Do you follow a process or ritual before a performance to get rid of nerves or performance anxiety?

Akhil: Yes definitely. Whenever I step out of my house or I know that I have my performances I remember god and chant few mantras to calm myself and give my best.
KS: What type of musician would you prefer to collaborate with?

Akhil: I'd love to collaborate with Musicians who are more into electronic music or the musicians who work on completely different genres like more of Indian music giving ethnic and folk vibes.
KS: Any message for young and aspiring musicians?

Akhil: There are different paths to any destination. You should choose the path you want to travel on. If you're talented and have the passion you can achieve anything in life. You'll be the best. Later or sooner every one will like you and acknowledge your work
Thank you for your time. It was nice talking to you. Adios! Drink Kehwa and Stay Safe!
This was Krishna Saproo in conversation with Akhil
I Kid You Not now has a large readership across India and also parts of the world. If you want to write for us, you can submit your story here. You can also apply to become a news anchor. Apply here