Mexico City As a Model Resilient City
Written by Sairaya Chopra, a grade 12 student.
Mexico City is the country's heavily populated and high-altitude capital. As of 2020, it has a population of 21,782,000, along with a nominal GDP of $266 billion…
---
Written by Sairaya Chopra, a grade 12 student.

We've all heard of the cities Vancouver, Barcelona, Paris, New York, and London. But did you know that these are resilient cities? You may be wondering, what exactly are resilient cities? Resilient cities are cities that are equipped to handle economic, environmental, social, and institutional problems and they also have sustainable strategies that help improve the living conditions of those that reside there.
Now how is city resilience measured? The following diagram explains how city resilience is measured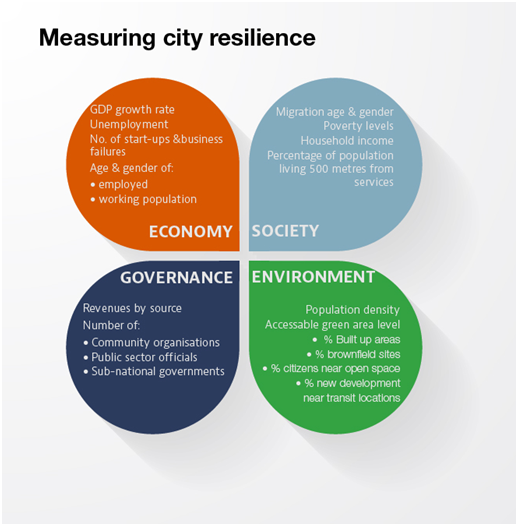 Mexico City is a great example of a city that can withstand adversity.

Mexico City is the country's heavily populated and high-altitude capital. As of 2020, it has a population of 21,782,000, along with a nominal GDP of $266 billion. The city was founded on 13th August 1521 and has an area of 1,485 km². The Templo Mayor (a 13th-century Aztec temple), the Spanish conquistadors' baroque Catedral Metropolitana de México, and the Palacio Nacional, which includes famous murals by Diego Rivera, are all worth seeing. All of these are situated in and around the Plaza de la Constitución, the massive main square also known as the Zócalo.
Keeping their sustainable development goals in mind – no poverty, clean water and sanitation, industry, innovation and infrastructure, reduced inequalities, sustainable cities and communities, and climate action – Mexico City has incorporated a couple of different resilient strategies.
How are they building a resilient city?
To begin with, their project called 'The Resilience Strategy' which started in 2016 and is still going on seems quite promising.
The Resilience Strategy is a response by the City of Mexico (CDMX) to foster public policies that contribute to strengthening the city's adaptive capacity. The Resilience Strategy drives an adaptive transformation by fostering a change of paradigm so that the development process transcends traditional frameworks to face complex problems and to design, modify, and implement public policies by cross-functional planning. In order for the strategy to be successful, it is important to have an efficient plan and set reasonable goals along with monitoring the process.
The city's dedication to this sort of planning and evaluation reflects its recognition of the gravity of the city's socio-environmental issues, as well as the possibilities it has to make genuine progress on sustainable social and economic activities that can alter the city's future.
In addition, Mexico City also has a strategy to curb issues related to its water supply. Resilience and water security for the valley of Mexico: Funded by the World Bank at 200 million USD, this 6-year programme with the Government of Mexico will create a resilient water system in Mexico City as well as the Lerma- Chapala-Santiago Basin in order to improve its water management and resources management of the Valley of Mexico's groundwater. It was started in 2015 by the World Bank.
Furthermore, Mexico City also has a strategy to tackle plastic waste. The startup EcoDomum built houses out of plastic waste. This idea curbs excess plastic waste and also creates employment for people on the low end of the economic strata, which is also a big problem in Mexico. Around 4 million people live in terrible conditions in Neza- Chalco- Itza which is among the world's 5 largest slums and is a suburb of Mexico City. A cheaper alternative for people living here could be plastic houses which take approximately 7 days to make and need around 80 panels made out of plastic.
As of 2016, 500 houses have been built with more to come. EcoDomum uses the method of heating and pressing in a local factory where they convert 5.5 tonnes of plastic waste into 120 plastic panels. Another advantage of the whole process is the job opportunities that come with this which includes EcoDomum paying people who collect garbage, which is another step of helping out people who are in poverty.
In conclusion, these resilient strategies have really helped Mexico City come closer to achieving its sustainable development goals, further proving how it is a great example of a resilient city.
Feel strongly about an issue and want to write about it? You can submit it here.