Storytelling & Vocabulary Building Workshop
A fun and interactive two-day workshop for children to listen to stories and learn some new vocabulary.
---
Dates: Rolling (planned according to interest and age groups)
If you're interested in this workshop, please fill out the form and we'll update you when a new session is planned.
Timings: 11:30 am – 12:30 pm
Ages: 6 – 12
Fee: Rs.1000
Program Overview
A fun and interactive two-day workshop for children to listen to stories and learn some new vocabulary.
Program Goals
Through storytelling, participants learn new vocabulary words and their usage
Participants have fun with stories and participate in the storytelling
They are encouraged to use their imaginations to create alternative endings to the stories – the idea is for them to think creatively
Participants gain confidence in reading and using new words
Workshop inclusions:
Two hours of interactive storytelling and word building
Group sharing, and vocabulary exercises
Facilitator feedback
Program Details
Day One:
Facilitator and participants' introduction
Overview of the story – with sound effects to make it fun
Participants allotted a sound effect to portray.
Storytelling begins
Q&A on the stories
Vocabulary building

The facilitator explains the meaning of the words and uses them in sentences.
Participants divided into teams to compete to spell the words correctly.
Day one homework: The children have to make sentences using those words.
Day Two
Homework sharing and feedback
Storytelling – the second story

The children read out the parts of various characters.

Discussion of the ending of the story.

Thoughts on how it could have ended differently – for the children to imagine another ending
Idea is to encourage the child's imagination

Vocabulary building

The facilitator selects 5 words in the story for vocabulary building and explains their meanings.
Day two homework: The children have to make sentences using the five words and mail them to the facilitator. She will correct them and send an evaluation by email.
This workshop is facilitated by Asha Girdhar, an award-winning scriptwriter and author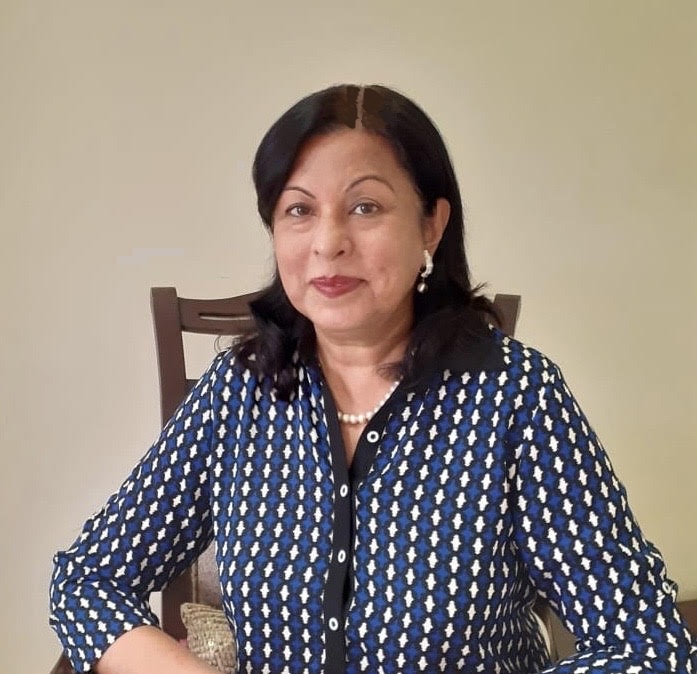 Asha Girdhar

Asha Girdhar is a National Award-winning film scriptwriter. She has also been an author and educationist for over 30 years. Her children's books and short stories have been published in Singapore and Indonesia. Two of her books were selected by the Ministry of Education in Singapore as reading material for high school students.
She is also the author of Sonny & Zap, a weekly educational series that was published for 15 years in The Jakarta Post, Indonesia's most widely read English newspaper. The series covers subjects such as English grammar, history, pre-history, geography, health, the environment, outer space, science, and technology in an entertaining way.
Additionally, she conducts workshops in creative writing, creative visualization, and drama in educational institutions in both India and Indonesia. Recently she was invited by The Times of India to speak on ways to bridge the learning gap caused by the pandemic. She is also a frequent guest lecturer at Times of India's NIE annual "Star Correspondents" journalism orientation course.
Fill out the form below to book your place in this workshop.