Tesla in India – EVs and The Road for Elon Musk
Written by Jayeesha Taneja, a second-year journalism student.
India is the world's fifth-largest market for automobiles which also surprisingly has the lowest automobile capital consumption…
---
Written by Jayeesha Taneja, a second-year journalism student.

Understanding India's stance on Electric Vehicles
India is the world's fifth-largest market for automobiles which also surprisingly has the lowest automobile capital consumption.
It is also the world's largest motorcycle manufacturer, selling 57 million units in 2020 alone. When it comes to electric vehicles, the industry has experienced significant growth since 2019. While EVs will do a noteworthy job at improving the state of the environment, the costs that come with setting up the infrastructure, their maintenance, and the high costs of the vehicles themselves pose a big challenge to their success in the country.
The government sure does strive for cleaner mobility in the country and as a benefit, the GST for EV makers is reduced to 5% as compared to the 29%-50% range which is applied to internal combustion engine vehicles. Under the FAME II Scheme- Faster Adoption and Manufacturing of Hybrid Electric Vehicles II, approvals for 6,315 buses, and 2,877 EV charging stations accounting for up to Rs. 5 billion have been signed. In essence, at this point with regards to Tesla, India is looking for more of a Make In India rather than an Import into India.
Who is Elon Musk?
Elon Musk is an American billionaire entrepreneur who is the founder of SpaceX (a space agency) and Tesla – an electric vehicle company (among others)
Read this article about him and his quest to go to Mars

Elon Musk's entry into India
Tesla stepped foot into Indian soils by registering its first office in Bangalore, Karnataka. While its manufacturing bases still are unclear, there are potential difficulties Musk's Tesla might be looking at in accordance to the Indian Government.
India's customs duties are one of the highest in the world as a reasonably advanced country. It imposes 60%- 100% customs duties on imported cars- 60% on those cars priced or under $40,000, and 100% on those cars priced above $40,000. An essential fact to note is that Tesla's cars start from $44,690. These circumstances will not only make business for Tesla tremendously unaffordable, but it will also make the vehicles exorbitant in a country that earns lesser than $2,000 on average per year.
The US-based firm has requested to standardize tariffs to about 40% on electric cars. A possible solution the Indian government proposed was to set up manufacturing bases in India itself where it can consider concessions on tariffs. The company remains stubborn about importing fully built cars from the States to test its waters in the country.
What is the future of Tesla in India- Scope, and Competition
Telangana, Maharashtra, West Bengal, Punjab, and Tamil Nadu have opened their arms on Twitter to Elon Musk's company to set their factories up in their states while claiming to support them with infrastructure, sustainability protocols, and a streamlined process to get approvals. None of these States, however, are governed by BJP. Without the approval and reinforcement of the Union Government, the project will certainly face problems with land acquisition followed by their labor rights.
The entry of Tesla into Indian territory may seem like a win towards reducing internal combustion engine vehicles, but it's important to remember that the country's roads still work on cheap petrol. Mercedes-Benz has rolled out its fully locally assembled EQS- the electric version of its flagship S-class sedan. Tata Motors, to date, dominates 70% of the market of electric vehicles. Mahindra Electric has its eVerito and eSupro up and running. Hyundai Motors Company also has its very own 'The Kona Electric' in the market.
---
Also Read:
What is ChatGPT? Explained Simply
Where Does The Term 'Box Office' Come From?
---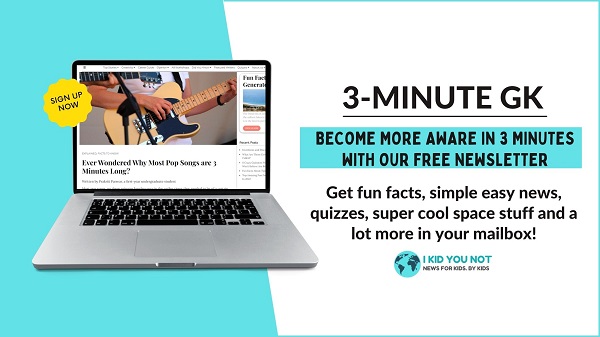 Better Your Child's G.K. In 3 Minutes – Get This Free Newsletter
Get fun facts, simple and easy news, quizzes, and lots of other interesting things to read in your mailbox – for free! It's what we call GK-on-the-go!
I Kid You Not now has a large readership across India and also parts of the world. If you want to write for us, you can submit your story here. You can also apply to become a news anchor. Apply here