What's Ganga Vilas – the World's Longest River Cruise?
The cruise will cover 5 states and 50 tourist spots in 51 days.
---
Ganga Vilas is all set to become the world's longest river cruise.
Tell me all about the Ganga Vilas
So, first things first, this is a luxury ship that will be flagged off by Prime Minister Narendra Modi on the 13th of January from Varanasi.
Here are the key points to know about the Ganga Vilas
The cruise on the Ganga River will cover 5 states and 50 tourist spots in 51 days. The tourist spots will include World Heritage sites and national parks. It will also stop for the "Ganga Arti" at Sarnath in Varanasi.
It will cover a distance of 3,200-km – from Varanasi to Dibrugarh (in Assam), via Bangladesh, sailing across 27 river systems in India.
Travellers will be able to experience the spiritual, educational, and cultural biodiversity of the country.
Some of the cities it will pass through include Patna (in Bihar), Sahibganj (in Jharkhand), Kolkata (in West Bengal), Dhaka (in Bangladesh), and Guwahati (in Assam). It will then finally reach Dibrugarh on March 1.
The ship is 12 meters in width and 62 meters in length. It has 18 suites on board and three decks. It can accommodate a total of 36 tourists.
The first voyage of MV Ganga Vilas will have 32 tourists, all from Switzerland.
The travellers will get to visit Mayong, known for its Tantric craft, Majuli, the largest river island as well as the Bihar School of Yoga and Vikramshila University, allowing them to soak in Indian heritage.
This cruise is a step towards unlocking the huge potential of river tourism in the country.
Watch this video to know more
---
Also Read:
Joshimath City Sinks – Causes, Impact, Significance. Explained Simply
Why is Indonesia Moving its Capital from Jakarta to Borneo?
What is ChatGPT
---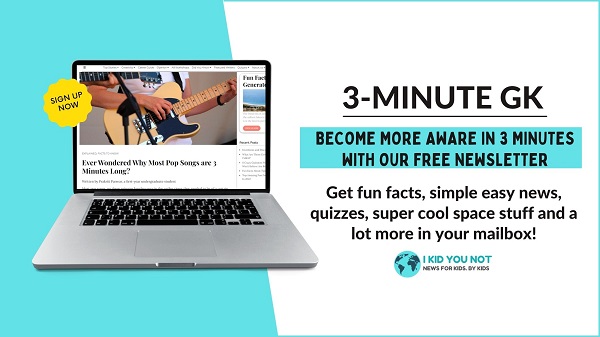 Better Your Child's G.K. In 3 Minutes – Get This Free Newsletter
Get fun facts, simple and easy news, quizzes, and lots of other interesting things to read in your mailbox – for free! It's what we call GK-on-the-go!
I Kid You Not now has a large readership across India and also parts of the world. If you want to write for us, you can submit your story here. You can also apply to become a news anchor. Apply here