Joshimath City Sinks – Causes, Impact, Significance. Explained Simply
Written by Sthitee Mohanty.
Joshimath is built on landslide rubble and has been gradually sinking due to land subsidence.
---
Written by Sthitee Mohanty
Joshimath in the state of Uttarakhand city sinks, highlighting the disadvantages of rapid unplanned land development.
Here's all you need to know about Joshimath's sinking issue
First, what's happening…
Joshimat is sinking. This is a little city in the Chamoli district of Uttarakhand.
Buildings in Joshimath have developed large and noticeable cracks and many of these buildings have had to be evacuated.
Why is Joshimath sinking?
A quick look…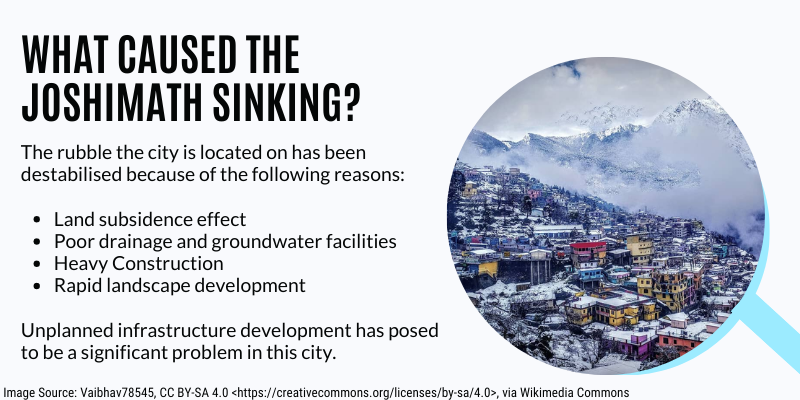 The main reason behind Joshimath sinking, say experts, is uncontrolled construction in this landslide-prone and seismically sensitive area.
Here's in detail about the Joshimath sinking issue.
Joshimath is built on landslide rubble, and has been gradually sinking due to land subsidence.
The sinking increased at an alarming rate this January. This rate increase is caused by the construction boom in the city, due to a huge influx of tourists, pilgrims, etc.
Joshimath is located in a fragile mountainous region. Unplanned building, drilling, soil evacuation, etc has put great stress on this land.
Satellite images show that the city has sunk by 5.4 centimetres in the first twelve days of January. Though the cracks in the building walls are not new, it is the acceleration of their appearance that is a cause for concern.
What is land subsidence?
Land subsidence is the sinking of land due to underground material movement. It is commonly caused by increased groundwater withdrawal and rapid urbanization. It is the reason behind Joshimath's sinking.
The subsurface of the city consists of loose soil. Gaps exist in the soil structure, widened by the uncontrolled withdrawal of groundwater for human usage.
The vibrations and force of heavy construction put stress on these gaps. The gaps collapse on each other, leading to the sinking of the city.
Climate change has exacerbated (made worse) this sinking.
Importance of Joshimath City
Joshimath is an important gateway city. It provides an entry point to many important Himalayan trekking routes.
Roads to holy sites like Badrinath for Hindu pilgrims can be accessed through this city.
It also provides a point of access to the strategic Indo-China border.
A large number of visitors to this town have thus led to an increase in unregulated urban development.
The sinking of Joshimath has turned up the heat on two major construction projects:
The NTPC Tapovan Vishnugad hydel power plant project
The Government of India Char Dham road project
Many Uttarakhand cities fall victim to the ecological disturbances caused by the construction of hydropower projects. Though such development is necessary, it should not come at the cost of human lives and the environment.
Joshimath is quite important in the Char Dham circuit. Yet the construction of wide roads for easier pilgrimage has put Joshimath in a lot of trouble.
Activities like drilling and underground construction have strained the city's delicate land substructure.
Residents' concerns
Till now, 610 buildings have cracks in the wall. 60 families have already been evacuated to temporary relief centers.
An entire city of people has been displaced because of this sinking. As more cracks appear, more families need to be moved away.
Ecological repercussions
The sinking of Joshimath reveals the fragility of the Himalayan ecosystem. Unregulated exploitation of the city's natural resources has put it in danger.
The continuous felling of forests and blockage of mountain streams has increased soil erosion in the region. This further undermines the city's shaky foundations.
What now?
Joshimath has been declared a landslide-subsidence zone.
There will be demolition of the buildings with cracks on them. Two hotels will be demolished.
The evacuation of residents continues from this city now deemed unfit for habitation. All construction has been put to a halt.
Cracks are appearing in the building walls of nearby towns as well.
Joshimath's woes highlight the dangers of unlawful construction that ignore sensitive ecosystems, hurrying to fulfill the large demands of an ever-increasing population.
---
Also Read
What's the Ganga Vilas
Unknown Facts About India
Fun Facts About the Ganga River
---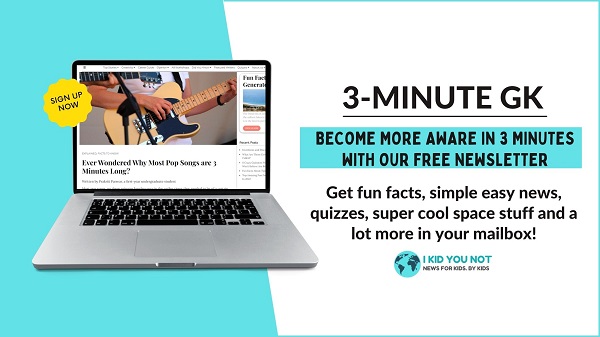 Better Your Child's G.K. In 3 Minutes – Get This Free Newsletter
Get fun facts, simple and easy news, quizzes, and lots of other interesting things to read in your mailbox – for free! It's what we call GK-on-the-go!
I Kid You Not now has a large readership across India and also parts of the world. If you want to write for us, you can submit your story here. You can also apply to become a news anchor. Apply here
Headline image source: Vaibhav78545, CC BY-SA 4.0 creativecommons.org/licenses/by-sa/4.0, via Wikimedia Commons