Who is Ajay Banga?
Written by Serene Joshua, contributing writer
Ajaypal Singh Banga will be the next president of the World Bank
---
Written by Serene Joshua, contributing writer
Ajay Banga is an Indian origin American business executive, who is all set to be the next president of the World Bank.
We tell all about him and the World Bank here.
The World Bank is an international organization tied to the United Nations that gives finance, financial advice, etc., to nations that are developing, to help with their economies.
Recently the current president of the World Bank announced that he will be retiring from his position as of June 2023. So, a new president needs to be brought in.
The US, who is the biggest shareholder of the bank as well as many other countries (including India) nominated Ajay Banga to be the next president
Who is Ajay Banga?
A quick look
Ajaypal Singh Banga is an American business executive who will be the next president of the World Bank
He was born and raised in India
He is a Padma Shri recipient (2016)
Due to his experiences in the financial industry and the way he has dealt with climate change and developing countries, as well as his professional lineage, he is the perfect candidate for the role
In a nutshell, Ajaypal Singh Banga is a business executive who was nominated by US President Joe Biden to lead the World Bank.
More about Ajay Banga
Ajay Banga used to be the chairman of the International chamber of commerce as well as the former chairman of the U.S.-India Business Council (USIBC) where he represented over 200 large international multinational companies that invest in India.
Along with this, he has over 30 years of experience with companies like CitiGroup, Mastercard, PepsiCo, etc., and these experiences have made him qualified to be a nominee for the world bank.
On February 23, 2023, he became the first Indian to be nominated for the role of President of the world bank group.
Where did he grow up
Ajay Banga was born in 1959, in Pune, Maharashtra however, his family is originally from Punjab and his father worked in the Indian army.
He went to St. Edward's School in Shimla and Hyderabad Public School for his primary and high school education.
After he graduated from school, Banga went on to pursue economics at an undergraduate level at St. Stephens college and then did his masters in the field of Management at the Indian Institute of Management in Ahmedabad.
Did you know – his older brother M.S. Banga was the CEO of Hindustan Unilever, so Ajay Banga had a good role model to follow!
Professional life – where has Ajay Banga worked?
He started his career at Nestle in 1981 as a management trainee and spend 13 years working for the company. After this, he moved on to PepsiCo where he played a huge role in establishing its fast-food franchises like Pizza Hut and KFC, and he did all this in a span of just two years!
After this, he moved on to work at Citigroup, a company that provides financial services. There he was head of CitiFinancial and US consumer assets till 2002 after which he became the CEO (Chief Executive Officer) of Citi's International Global Consumer Group. In total, he worked there for a total of 13 years at CitiGroup, from 1996 to 2009.
Right after this, he worked at Mastercard, which is one of the largest payment-processing corporations, from 2010 to 2021 where he was the COO (Chief Operating Officer) and then went on to become the CEO.
Currently, he is the vice Chairman at General Atlantic where he has invested over 800 million dollars in electric charging solutions, solar power, and sustainable farming.
All these are careers he has had in the private sector, however, in addition to this he has also worked in the public sector which makes him a great candidate to lead the world bank.
Former US President Barack Obama appointed Banga with a key administrative role on the Advisory Committee for Trade Policy and Negotiations in 2015.
In the 2020 elections, Banga has been a key advisor to now Vice president of the United States, Kamala Harris.
During this time, he played a major role in the development projects of Central America, where he helped Harris' administration to work with Guatemala, Honduras, and El Salvador.
Kamala Harris had spoken highly of Ajay Banga and stated that he would be a "Transformative" President of the World Bank.
Overall, Ajay Banga has more than 30 years of experience, in which he has handled roles at major international companies and has been a part of the board of directors for many more. He has also received major recognition for these roles both internationally and in India.
In 2016, India awarded Banga with a Padma Shri award for his efforts by the Indian government.
What's the World Bank?
As mentioned before, Ajay Banga will now head the World Bank, but what does this mean exactly?
As mentioned above, the World Bank is an international organization tied to the United Nations and gives finance, financial advice, etc., to nations that are developing to help with their economies.
Recently the bank has provided 157 billion dollars to help countries affected by the Covid -19 pandemic and has provided 170 billion dollars to tackle issues faced by Ukraine in the Russio-Ukraine war.
Currently, the president of the World Bank is David Malpass, who was nominated by former US president Donald trump. Malpass informed the board of directors at the World Bank in February of this year that he will be stepping down from his position as president on June 30th, 2023.
Why is he stepping down?

The man reason that's believed to be a factor in his stepping down is the fact that he did not accept fossil fuels and human involvement as being a leading factor in climate change which is harmful because, in today's world, a major issue is climate change and many countries are taking steps to reduce fossil fuels.
If a leader of a major organization that is tied to the UN fails to see the importance of climate change, then this could be harmful as other people in other major organizations will also take this stance and this will in turn reduce the awareness needed to tackle climate change.
Why was Ajay Banga chosen?
His professional credentials aside, Ajay Banga has great expertise in handling issues pertaining to climate change and at the moment, climate change is a top priority for the US.
As mentioned before Ajay Banga worked with general Atlantic where he has invested over 800 million dollars in electric charging solutions, solar power, and sustainable farming.
Joe Biden has also praised Banga's leadership noting the fact that he has great experience making use of both private and public resources to efficiently use them in solving issues.
Biden also gives credit to the fact that he is Indian! Biden believes that being an Indian gives Banga a "unique perspective" on the problems faced by developing countries and with Banga on board the world banks' vision to reduce poverty can turn into reality.
The US has the biggest say in who becomes the president of the World bank. This is because the US is the biggest shareholder in the World Bank and nominations from the US usually end up being selected. In fact, all former presidents, 13 to be exact, have been US citizens from the establishment of the world bank in 1946 to the present day.
Why is this important?
Firstly, it's a matter of great pride for India, as he is the only Indian-born nominee for the role. This helps India to have better representation from a global perspective.
Secondly, as mentioned before, due to Banga's experience with handling climate change through financial solutions, heading the World Bank will enable him to make a huge impact toward reducing the impact of climate change.
In addition to this, the US Secretary of Treasury, Janet Yellen has stated that Ajay Banga's efforts have helped over 500 million people, who were unbanked, come into the digital economy. These belonged to underprivileged backgrounds and by helping them with their finances, he has created a space for inclusion and development which makes him even more qualified for the role of president at the World Bank.
This is also really important in terms of representation. If you look at past presidents of the world bank, they have all been men of American origin, with the exception of Jim Yong Kim.
Ajay Banga is of Indian origin and his selection is reflection of the fact that regardless of one's nationality and ethnicity, anyone can make it to the top and become a world leaders..
---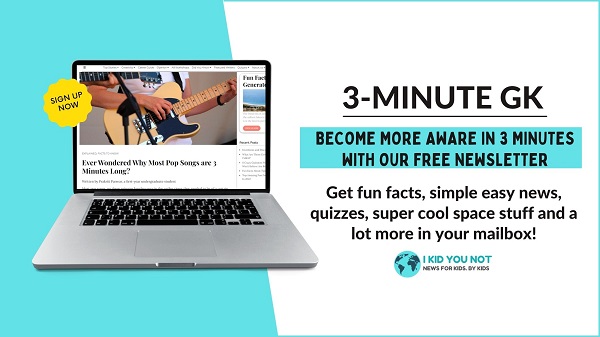 Better Your Child's G.K. In 3 Minutes – Get This Free Newsletter
Get fun facts, simple and easy news, quizzes, and lots of other interesting things to read in your mailbox – for free! It's what we call GK-on-the-go!
I Kid You Not now has a large readership across India and also parts of the world. If you want to write for us, you can submit your story here. You can also apply to become a news anchor. Apply here