The History of Barbie
Written by Serene Joshua, contributing writer.
An interesting fact about the origin of Barbie is that the name Barbie is short for Barbara and was actually the name of the daughter of the creator of Barbie.
---
Written by Serene Joshua, contributing writer
Whether you like Barbie doll or not, the story of Barbie is an interesting one.
We look at the Barbie story today – everything from the origin of Barbie to why the doll faces criticism – and also how it has evolved over time.
You'll get answers to questions like – how old is Barbie and what's Barbie's full name, right here…
The story of Barbie
First things first, the name Barbie is short for Barbara and was actually the name of the daughter of the creator of Barbie (more on that below). Her full name is Barbara Millicent Roberts, and she was first introduced to the world on March 9th, 1959 as an 11-inch plastic doll.
If you are asking who created Barbie – then here's your answer.
She was created by a toy company named Mattel Incorporation, that was founded in 1945 by Ruth and Elliot Handler. Ruth was the one who designed and introduced the Barbie doll and decided to name the character after her daughter Barbara.
That was the origin of Barbie – and now you know who created Barbie. But, there's more below, so read on!
Let's take a quick look at the history of Barbie
What was different about Barbie?
She was the first doll of her kind to look like an adult woman, compared to other dolls in the toy market of the time that looked more childlike. It was a new and radical concept for the time.
History of Barbie – Short and Sweet
Mattel first officially introduced Barbie at the New York Toy Fair on March 9th, 1959.
Barbie was an icon of feminism as the 1950s was a time when women had to play certain roles based on their gender
However, there has also been much controversy and criticism centered around the fact that Barbie looked like a woman.
How did it all start – the story of Barbie
It all started when Ruth Handler noticed that her young daughter Barbara preferred to play with paper dolls that looked more woman-like and seemed to project what she wanted to be when she grew up.
Looking at her daughter, Ruth wondered if there was a potential demand for this type of doll – one that would make little girls imagine themselves as adults by playing with a doll that looks like a woman rather than a child.
The idea really came to fruition when the Handler family took a trip to Switzerland in 1956, and Ruth noticed a German doll called Bild Lili in the window of a Swiss shop that looked like a woman. She took several of these dolls back to America with her. Mattel then bought the rights to Lilli, and Ruth went on to create her own version.
Mattel officially introduced Barbie at the New York Toy Fair on March 9th, 1959.
The first Barbie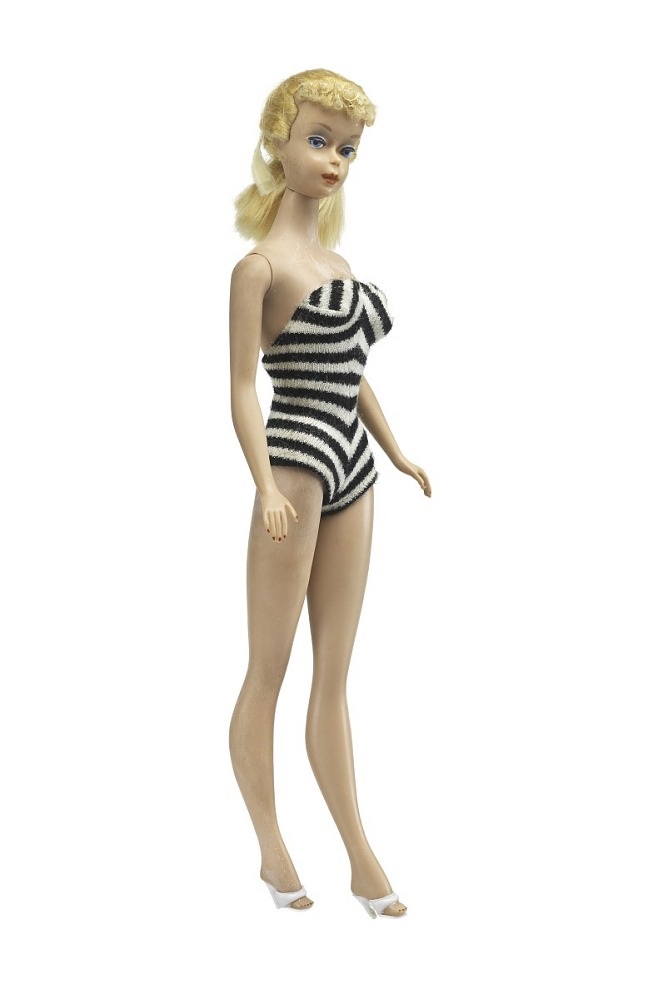 In their first year of introducing Barbie, Mattel sold around 300,000 Barbie dolls and was the first company to bring a doll like Barbie to children everywhere.
That was a quick history of Barbie
Over the years…
The number and variety of Barbie toys have grown every year. Barbie too has taken on various avatars and forms, reflecting a wide range of professions, including airline hostess, pilot, doctor, astronaut, Olympic athlete, and even U.S. presidential candidate.
But, that's not all – today there are all kinds of Barbie dolls – from ones with different skin tones (brown, African-American etc.), hair types. There are also gender-inclusive Barbies and one with vitiligo (a skin condition), a prosthetic leg and a also a bald head.
What was so different about Barbie?
When she was introduced, Barbie was different in many ways. One, as stated earlier, she was more like a woman than a child. She was a grown-up fashion model who could do things most women then really didn't see themselves doing – drive, do on dates and and wear fabulous clothes.
Also, while Barbie was criticised for reinforcing certain body-types (which is true, more on that later) she was different in that at the time she was introduced women were mostly expected to play roles of mothers and wives – Barbie, on the other hand, showed kids that women could be many things and have successful professions.
Barbie was an independent woman who was not dependent on anyone and who did not conform to the gender roles of the time. This was different from other dolls at the time that leaned towards teaching children about nurturing and being motherly.
"My whole philosophy of Barbie was that through the doll, the little girl could be anything she wanted to be. Barbie always represented the fact that a woman has choices." Ruth Handler
In fact, when the Ken was introduced as Barbie's boyfriend in 1961, he was positioned as an "accessory" still keeping Barbie as the main character.
Barbie has had over 200 professions, like astronauts, pilots, doctors, presidential candidates, police officers, paleontologist, and so much more – but she's never been a wife or a mother.
What is the criticism against Barbie?
Since the time it was introduced, there has been much controversy and criticism of the doll.
Initially this was centered around the fact that Barbie looked like an adult woman that kids should not play with.
In 1958 Mattel conducted a study with mothers to understand their response to the doll before its release. Most mothers were concerned about the doll's appearance being woman-ly as most dolls their daughters played with were baby dolls.
Mattel then decided to directly advertise the doll to children rather than parents through a children's show called Mickey Mouse Club House. It was a super success.
In the later years, Barbie was criticised for being materialistic – too many houses, clothes, cars, etc.,
Moreover, this is what was (and in many ways continues to be) wrong with Barbie:
Barbie reinforced unrealistic idea about body size and image – her overly curvaceous body gave the wrong ideas to little girls about the bodies they were supposed to have.
In response to this, Mattel changed the body sizes for their dolls on many occasions, and in 2016 they released Barbie in three different sizes- Petite, tall, and curvy – though curvy Barbie, it was found, was still far thinner than the average 16-14 year old girls (in the UK, according to the study)
The evolution of Barbie
While Barbie began life as a white, skinny and glamorous woman with blond and black hair, she has evolved over time to reflect social and cultural changes in American culture.
There are now over 170 Barbie dolls with various skin tones and hair types, there is also a hijab-wearing doll (as an honour to the Olympic fencer Ibtihaj Muhammad) – and many Barbies of different races and ethnicities. What's more, there are Barbies in the STEM fields, she is in over 200 professions, taking on new careers (as mentioned earlier).
A quick look at some key moments in Barbie's journey
In 1962 Mattel launched the first Barbie Dreamhouse.
It was a meant encourage little look at Barbie as a symbol of independence and empowerment. Girls could imagine themselves being financially independent, entertaining friends or relaxing in their stylish living rooms.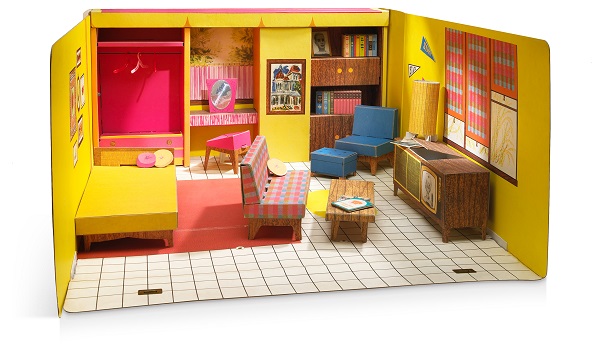 After Ken, Barbie's friend African-American friend Christie was introduced in 1968.
More diverse Barbies, like the Latina Barbie, were introduced in 1980.
In 1965 Astronaut Barbie was introduced where she goes to the moon. This was four years before Neil Armstrong along with and Buzz Aldrin become the first people to land on the moon!
10 fun facts about Barbie
1. Barbie and Ken were named after real people
Barbie was named after Ruth Handler's daughter, Barbara Handler, whereas Ken Carson (Barbie's boyfriend) was named after her son Kenneth. In real life, Barbara Handler was 18 years old when Barbie was introduced and Kenneth was 15 years old.
2. Mattel refused to make a mom Barbie
In the 1960s, there was a demand from buyers for a Barbie to have a baby. However, the designers at Mattel did not make Barbie a mother. Instead, they came out with a "Barbie Baby-sits" collection in which Barbie played the role of someone who was Babysitting or taking care of someone else's child rather than her own.
3. Barbie made it to Hollywood in 2023
Although there have been numerous animated Barbie films for kids, 2023 will see a real-life adaptation of Barbie by an Oscar-nominated director- Greta Gerwig.
The story will center around the life of Barbie who will be played by Margot Robbie and has many popular actors like Ryan Reynolds, Will Farell, America Ferrara, etc., It is set to release on 21st July and could very well win an Oscar for best picture.
4. Every second 2 Barbies are sold worldwide
According to official Mattel data, they calculate that each second two Barbies are sold worldwide. In all one billion Barbie dolls have been sold since it launch in 1959!
5. Barbie now has over 250 careers
As mentioned before, one of Mattel's main aims with the Barbie doll was to show that she was independent and can achieve anything she wanted. Because of this, she has been released with many careers such as Doctor Barbie, Astronaut Barbie, Geologist Barbie, Detective Barbie, CEO Barbie and so much more!
6. National Barbie Day is on March 9th
Mattel first officially introduced teh Barbie at the New York Toy Fair on March 9th, 1959. This day is considered to be Barbie's birthday and is thus celebrated as National Barbie Day in the US.
In 2009, Barbie celebrated her 50th birthday with a runway show at the Mercedes-Benz Fashion Week in New York City. The exhibition featured 50 renowned designers' original works.
7. In 1967 the very first celebrity Barbie was released
The first ever celebrity to have a Barbie modeled after her was supermodel Twiggy in 1967. Since then many more women celebrities like Audrey Hepburn, Diana Ross, Cher, and JK Rowling had Barbies made in their likeness!
8. Barbie went to the moon before Neil Armstrong
The race to get to the moon was won neither by the Soviets nor Americans but by Barbie! Mattel released an Astronaut Barbie doll who successfully completed her mission to the moon in 1965. This was to celebrate Valentina Tereshkova who was the first woman who went to space in 1963. However, Barbie took it a step further by going all the way to the moon four years before Neil Armstrong!
9. The first Barbie doll was sold for 3 Dollars
The first ever Barbie doll made its debut on March 9, 1959, and sold for just $3. Nowadays, a mint condition Barbie doll that was sold in 1959 can fetch more than 25,00 US Dollars!

10. Barbie first ran for president in 1992
Since 1992, Barbie has run for president of the US in every election cycle. In 2016 she ran with a fellow Barbie as her vice president.
This was done in an effort to encourage and inspire young girls to become political leaders. In fact, the back of the box containing President and Vice President Barbie dolls includes a website with a worksheet that encourages parents to talk with their daughters about leadership.
People who founded and contributed to the success of Barbie
| | |
| --- | --- |
| Ruth Handler | Ruth Handler founded Mattel along with her husband Elliot Handler in 1945. However, she is best known as the inventor of Barbie. Ruth created Barbie as she wanted to help little girls imagine their dreams for themselves as young women by playing with a doll that looks like a woman rather than a baby. |
| Kitty Black Perkins | The many outfits that Barbie has worn over the years are a result of Black Perkins' tireless work and fashion knowledge as the Chief Designer of fashions and doll concepts at Mattel. She is best known for creating the first-ever African-American Barbie doll in 1980. |
| Carol Spencer | From 1963 to 1999, Carol Spencer was Barbie's Chief fashion designer making over 1000 different outfits. Every new look that came out was designed by her and she made sure to keep Barbie up to time with current fashion trends of each era. |
| Jack Ryan | Jack Ryan is the former vice president of research and design for Mattel. He is an inventor and designer whose list of creations ranged from the Barbie doll to missiles! While at Mattel designed about 35 best-selling toys, including the Chatty Cathy talking doll, Hot Wheels, and Barbie doll. |
What were some other dolls along with Barbie?
Along with Barbie, many other dolls were introduced as her friends and family over the years. Let's take a look at some of these dolls and why they are important.
Ken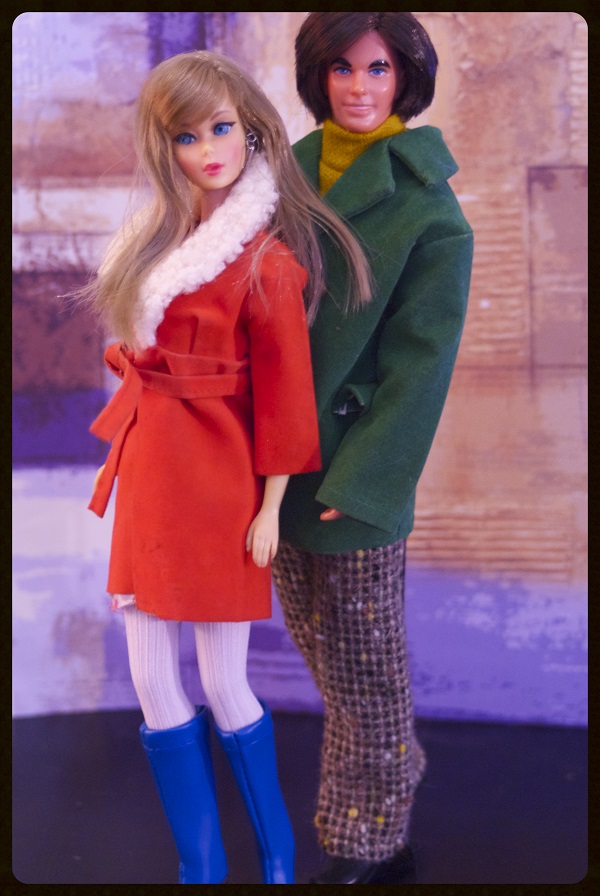 Ken or Kenneth Sean Carson was introduced by Mattel in 1961 at the American International Toy Fair as a counterpart of Barbie. In fact, when the Ken doll was introduced as Barbie's boyfriend in, he was advertised as an "accessory" still keeping Barbie as the main character. He is named after Ruth Handler's son Kenneth Handler.
Over the years, Ken has undergone numerous changes and had a variety of occupations and looks, including beach-themed Ken, businessman Ken, and athlete Ken.
Midge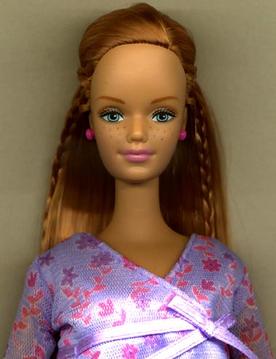 The Barbie toy line by Mattel introduced a doll named Margaret "Midge" Hadley Sherwood, who debuted in 1963. She was promoted as Barbie's closest friend. These Midge dolls often had blue eyes, freckles, and red hair.
During the 1980s a "Wedding Day Midge" doll was introduced with the groom being Alan Sherwood, who had been marketed as Midge's boyfriend in the 1960s. This was part of The Happy Family line which was criticized when some parents did not like the "pregnant" Midge toy because they believed that Midge was too young to have children.
In 2013, Mattel made the decision to rewrite Midge's past, reintroducing her as Barbie's best friend who was single, had no children, and had no relationship with Alan.
Skipper
Skipper Roberts is Barbie's younger sister and was introduced as Barbie's first-ever family member in 1964. The reason she was introduced was because there was controversy at the time that Barbie did not appear to be a family-friendly doll and was not suitable for kids.
To counter this Mattel did not want to give Barbie a child and make her a mother as they still wanted to maintain Barbie's independence. Instead of a baby, Mattel introduced Skipper as Barbie's younger sister who she babysits.
In 2009, Skipper underwent a redesign by Mattel, who gave her a tech-savvy personality and a colored stripe in her hair.
Christie
Christie was invented by Mattel in 1968. Christie and Barbie shared the same body type, allowing their clothing to be worn interchangeably.
Her face, however, was different and was meant to emphasize an African- American woman's facial traits. Christie is often regarded as the first "Black Barbie" and was one of several dolls who could talk. The doll spoke by tugging a rope on her back, saying things like, "Hi! I am Christie" and "Let's go shopping with Barbie."
Christie along with Teresa was introduced so that there are a more wide range of dolls that were representative of all skin colors and all backgrounds that kids could play with rather than just the standard white American Barbie.
That was all about the origin of Barbie. Hope you found this post informative. To know more about the history of Barbie and see her through the ages, you can go here.
Also, to conclude, it is important to know that even though Barbie has kept up with the times and adapted to the times to become very inclusive – there is the question of body image and reinforcing a certain type of body as being acceptable – even the curvy Barbie is not as inclusive as its positioned to be.
Tell us what you think…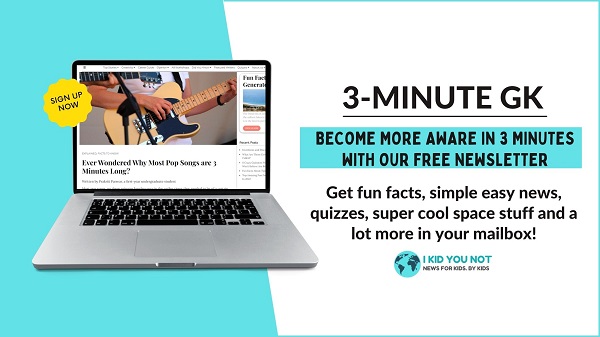 Better Your Child's G.K. In 3 Minutes – Get This Free Newsletter
Get fun facts, simple and easy news, quizzes, and lots of other interesting things to read in your mailbox – for free! It's what we call GK-on-the-go!
I Kid You Not now has a large readership across India and also parts of the world. If you want to write for us, you can submit your story here. You can also apply to become a news anchor. Apply here